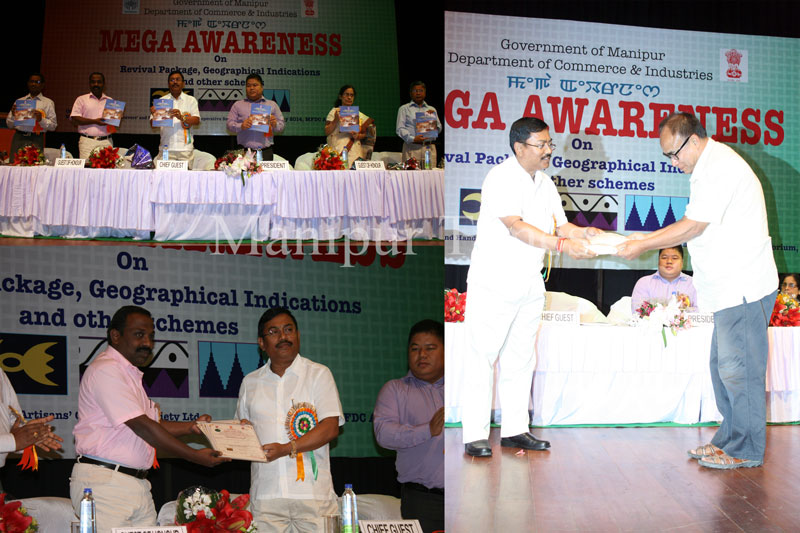 Imphal, May 30: In what could be termed as proud historic moment for the state, Chinnaraja G Naidu, Asst. Registrar of trade marks & GI, Government of India has officially handed over the GI registration certificates of Manipur's three handloom fabrics Shaphee Lanphee, Wangkhei Phee and Moirang phee to state commerce and industries Minister Govindas Konthoujam during the function of Mega awareness programme on handloom schemes, revival package and GI held at MFDC hall, Imphal here on Friday.
With Govindas Konthoujam, Minister of Commerce and Industries as the chief guest, the function was also attended by John Tlangtinkhuma, IAS, Director, commerce and Industries, Manipur, Chinaraja G Naidu, Assistant registrar of trade marks & GI, M. Soren, General Manager & OIC, NABARD, Imphal, Dhiraj Yumnam, former Director, Commerce and Industries and Jaya Dive, Asst. development commissioner (handloom), Ministry of textiles as president and guests of honour respectively.
Speaking to the gathering, Minister Govindas Konthoujam said that getting GI registration certificates for three Manipuri handloom fabrics namely Shaphee Lanphee, Moirang phee and Wangkhei phee under Geographical indication for goods (Registration & Protection) Act, 1999 is a proud and historic moment for the state. Now we are the owner for these three fabrics and have every right to protest or fine against anyone who misuse or copy the motifs and design of the said fabrics, the minister said.
As we have got ownership right, now it is almost imperative to increase productivity with good quality of the handloom fabrics for global marketing and meeting the demands from the costumers. Weavers will suffer profit  loss when the handloom fabrics are not produced with quality,  he said and added that a consultative committee held on November 19 last year decided that the department has to ensure for registration of 1000 weavers as the authorized users in respect of Shaphee Lanphee (GI no.371), 5000 weavers in respect of Wangkhei Phee (GI no.372) and 1000 weavers in respect of Moirangphee (GI no.373) within six months from the date of registration.
He said that under the Revival, Reform and Restructuring package for handloom sector, about Rs.11 crore has been provided to 696 eligible  primary handloom weavers co-operative societies including one apex society as financial assistance under direct cash transfer for the first phase. In the second phase, Rs.16.33 crore will be provided to to 944 weavers' societies. Thus, the recapitalization of 1640 nos. of societies at 27.33 crore in single installment is a landmark and first kind in the state, he said and appealed the weavers' societies to utilize the money properly.
To boost up the economic growth of the state, we need to be laborious like other countries in the south east Asia like China. We should not wait for only funding from the central government. Involvement of male weavers in the present scenario of Manipur handloom industry will boost up the economy more, observed the minister.
During the function, the minister honoured the expert committee members of the GI registration namely Mutuwa Bahadur Chairman, expert committee, , Haobam Sukumar, M. Sheityabama, Dhiraj Yumnam, Salam Chingtam Luwang and others.