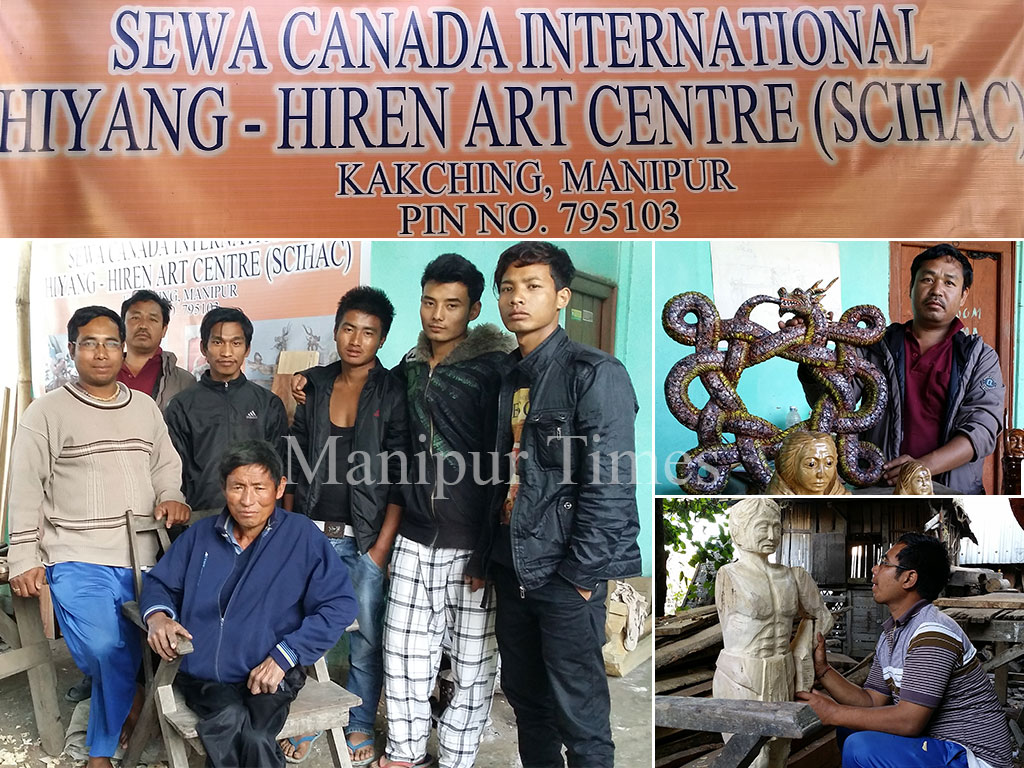 Nobody is born professional; every artist is a learner first. Patience and hard work carve a man to perfection. Like every sad song is touchy and beautiful, every artist has a sad story behind his/ her smile of success. And the beauty of art is – it does not fail to give a lasting impression to the heart and mind of many people. Wood carving is one among such art forms which has groomed the International Hiyang Hirel Art Centre, Kakching.
Inspiring Incident
The art centre was established around two decades back. It did not start with a business motive but developed itself into a complete centre in course of time. A man namely Lukhoi established the centre with an aim to preserve the art of wood carving.
In an interaction with the Manipur Times, Lukhoi said that the incident that inspired him to start wood carving goes back to 1993 in Ukhrul. He went to the hill station with his uncle Ibomcha to earn livelihood. One day, a Tangkhul fellow, Awon asked them to fix a horn on a wooden-head of deer. They carved the wooden head out of a wood log and thus the initial step took off.
Then Lukhoi began to search different types of wood and tree roots to carve different structures as he was quite acquainted with the art being a member of a carpenters' family. By next year in 1994, Lukhoi started participating art fairs. His first appearance in any fair was at Pologround in a mela organized by Commerce & Industries Department under District Industries Centres, Government of Manipur. His sculptures in the fair could attract the visitors and never ever let them passed by his shop without buying them.
The Award Winning Piece
Poverty was a stumbling block and he was struggling hard to get rid of it. On the other hand, he could not leave the art as it was in his blood, Lukhoi said. And the patience in him kept Lukhoi going. In 1997 he was honored with the State Kala Akademi Award for his 8-inch high wooden sculpture of Loipot Kaba, having the circumference of 40 inch. The sculpture associated with the history of Kakching and its people who were once blacksmith. They made spears and presented it to the king.
In the same year, Lukhoi was conferred National Award by Ministry of Textiles, Government of India for his iron casting sculpture, depicting the similar history of Kakching people who were iron caster and blacksmith by profession since the reign of Ibudhou Khamlangba. In his long 15/16 years, he never stopped wood carving despite the meager earning he got from the profession. Art is aesthetic for which we need patience. So he swallowed oceans of sadness and worries to tell the world the beauty of art and the story it carries.
Trade Fairs and Melas
Lukhoi has participated in numerous trade fairs and melas in and outside Manipur. In November 1997, he attended a Trade Fair in New Delhi. In December the same year, he attended Craft Mela at Delhi Haat, New Delhi. Lukhoi said that Craft Mela is favourable than Trade Fair in selling his products as it is meant exclusively handicraft items, he said. In 1999 and 2000, he attended Trade Fairs at Vishakhapatnam and Gwalior respectively organized by Ministry of Textiles, Government of India. Again in 2006 he participated in Trade Fair in New Delhi. They could sell sculptures of Rs60,000 to Rs70,000 in the mela , he recounted.
Art Vs Monetary Need
Lukhoi felt sorry to reveal that those who went to attend either trade fairs or melas outside the State could not meet the demand of the visitors as the State Government did not grant any fund to needy artists. Applying a loan in a bank is not a child's play to those who have no money and muscle power in Manipur. Without money they cannot buy raw materials, good machines and give salary to employees. To attend such melas they had to have Rs 1 to 2 lakh in hand, Lukhoi said. In the state, he participated in Lui-Ngai-Ni in 1996 wherein he stood first position. He has also been participating in Manipur Sangai Festival since 2011. He still hopes to attend further for which he needs 2 to 3 years time and lakhs of rupees to carve sculptures.
Establishment of an Art Centre
The Art Centre was initially started by Lukhoi as a small work-shed, but after meeting Rameshwar, who is also an art lover, the centre was established in October 2012. Rameshwar had also participated in a mela organized by State Kala Academy, Kakching in 1994 at Kakching Girls' College. He helped Lukhoi financially to establish the Centre. Rameshwar grew up in a carpenter's family like Lukhoi and the art of carving was in his blood too.
Rameshwar has done carving of 2-3 human portraits on plank in his leisure time and a map of India. He worked with an NGO, Alliance for Development Alternatives Manipur (ADAM), Kakching for one and half year before meeting his partner. Now the Art Centre is imparting training to 12 trainees out of which 10 are under the financial support of Guru Shiksha, a grant given to National Awardees in art. The training is of 6 months, both trainers and trainees got honorarium from the Ministry of Textiles, Government of Manipur.
He further said that it is hard to produce attractive items with limited capital. They have to search trees, cut the trees, roots and branches, and transport it to their work shed from different places located in and around Kakching and neighbouring villages like Maring Khudei, Krejing and Mamang Ching. Sometimes they buy one or half truck load, which is about 250 to 300 Kb costing Rs 50,000 to Rs1 Lakh.
Assam Rifles – The Best Customer
Regarding marketing of their product, Rameshwar said that Assam Rifles is their regular customer since 2003. Assam Rifles in Ukhrul, Noney and Jiribam buy their products and Dhai Moorti is the most demanded sculpture for Assam Rifles. So far about 30 such sculptures had been carved and sold out. Other sculptures are hard to sell, so most of the employees work on furniture decoration. Demand from the people of Manipur is negligible, which is the reason why the Centre is unable to expand their business. The common items they generally produce are Emoinu, deer head with antler, and Hiyang Hirel.
Hiyang Hirel is most expensive item and its cost ranges from Rs4500 to Rs7000 according to sizes (3 feet to 7 feet in length). Carving and sculpting need the anatomical knowledge of the subject and they studied it in due course of time, said Lukhoi. The Centre's regular employees are Ksh. Muhindro, Makha Leikai; Herojit, Wairi Senapati Leikai; P. Sarju, Chumnang; Kothin Maring; N. Ranjan, Wairi Jr. High School and S. Socrate from Wairi.
Future Plans
Now the centre is planning to set up an outlet cum work shed at Kakching Lamkhai and upgrade the firm to a Society so that it can impart training to larger number of people. Lukhoi added that they always keep aside their masterpiece because their costly work cannot compromise with empty stomach as no one will buy it. So they work on those subjects which will be sold out fast in the market. Being an artist, Rameshwar shares with all that one should be conscious about self first. Art is peaceful and it brings beauty and understanding but no tall-talk.