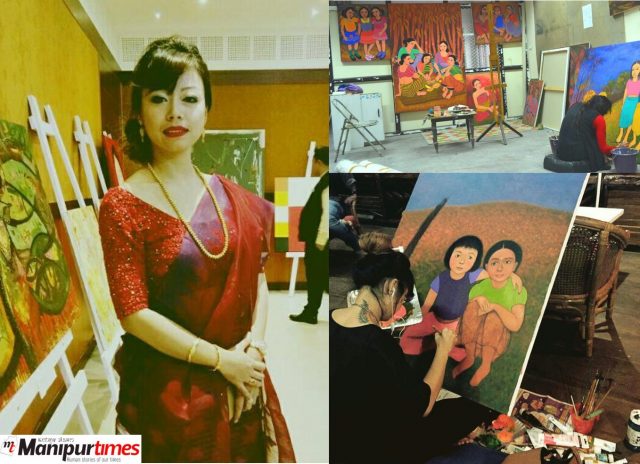 "To express what you feel inside of you in an artistic form you can" serves as a philosophical guideline for painter artist Meena Laishram ever since she came off age and began to explore the global world of fine arts, focussing particularly on different forms of painting.
At 31, Meena, a freelance painter has been engaged and participating in several arts camps, to enhance her knowledge and imbibe the multiple customs and cultures unbeknownst to her.
Dauntless with high hopes of achieving success in life, Meena told Manipur Times that her artworks are mostly inspired by humanity, and that her main theme is based on "childhood memories."
Still, being a passionate lover of painting from her childhood days, the resident of Tera locality in Imphal, also indulges in other aspect of painting including sketching as well.
Meena's professional works are being acknowledged as art collectors and patronages from Mumbai, South Korea and other part of the countries have approached her to have her unique style of painting displayed for respective art galleries.
Based on her observation, the graduate topper at College of Arts (Delhi), lamented that the general masses of the state are yet to reach a stage where painting as a form of art are appreciated unlike in other parts of the country and beyond where "paintings on various styles are highly admired."
Fortunately, the former notion is gradually changing and the people have come to realize painting as an art work, which will definitely enable painters across the globe to see Manipur which is endowed with rich cultures and natural beauties.
She had her first solo exhibition entitled "Daughters Unpluck" at an arts gallery show, organised by India International Centre in May 2015 in the national capital.
Learning new cultures
Meena during an art camp held at Imphal on November 26, 2017 had opined that "an artist should go outside their work stations, visit places, and explore art galleries at other states in order to learn the culture and customs of various other communities so as to have an everlasting unconscious reflection on the painter themselves."
Her core belief is that unless the painter artist observes the distinctive beauty of a society or an ethnic community, there is no point to gain whether one learnt painting in a foreign, national or local art institution.
If painters of the state are to move ahead, it will be quite unproductive if the painter is confined to his own work station as it will not assist the artist to discover new techniques related with painting and accordingly develop new style, added the upcoming young painter.
Currently, many painters are absorbed in painting portraits of historical personalities and incidents which confines them within a certain perimeter despite the huge potentiality, Manipur painters have.
Although one might face lot of financial constraints, in the beginning, the young emerging artist is convinced that, "if one is able to carve out a unique style, a certain level will be reached wherein Manipuri painters having distinctive style would be pushed, supported and lifted automatically" by various colleagues, patrons and art galleries.
Focussing on human interaction rather than ethnic differences
Born of parents belonging to different ethnic communities, she recalled that as a child, she interacts with all individuals as a person which is contrary to the prevailing perception of many grown-up who develops awareness about their respective ethnicities and "pollute themselves with different outlooks."
Interestingly, to allow others to understand the significant past and the fact that we are all humans first; she had painted a unique artwork in which some girls are seen playing the traditional children game of "Khut Lotpi" prevalent in Manipur and other South East Asian countries wherein three or four children squats in a circle and play with small stones.
Of the painting, Meena remarked that "to a casual onlooker, the painting might seem to be of a few children playing the simple game."
However, there is a catch, she says that the message being incorporated in that painting is that "if one observes it deeply, the onlooker will witness that the girls are wearing different costumes belonging to traditional dresses of ethnic Kuki, Meitei and Naga communities" which implies "the joyfulness one experiences during childhood irrespective of ethnic differences."
The artist is of the opinion that "all individual faces problems all across the globe", but simple differences such as that of ethnicity, should not be a matter of division.
As a child, none are concerned about their identity which of recently has been a serious issue of social tension in the state, but to remind that we feel happiness, sadness, joy, love and pain irrespective of ethnicity.
Exploring the world of fine arts and distinct style
Completing her Master's degree in Fine Arts (Painting) from Delhi University in 2013, Meena has her own private studio set up at her residence East of Kailash in South Delhi and frequently visits the nearby Lalit Kala studio during daytime.
With her eyes closed, the self-employed artist, narrates that "most of the time, she absorbs herself to remind herself about her childhood experiences and memories and seeks a way to reflect her thoughts and desire through her chosen art form" she is accustomed to since her school days at Navodaya, Khumbong in Manipur state.
Ambitious, the woman attends several art camps, visit galleries, get in touch with fellow colleagues and study the works of others as learning is a continuous process.
Such is her conviction of her belief that she has been travelling across the country, despite financial constraints at times. However, the ecstatic happiness she experiences by visiting such galleries cannot be put into words, continued the artist.
Going further, she recalled that her works also included customised painting on bags as well. She has painted for some Delhi-based entrepreneurs on bags for designers when they approach her, even if it's just a single piece.
The young upcoming painter, reminding a Rongmei (Kabui) painter Golmei Gadampu, opines that "a painter needs to produce their own distinct style in due course of time so as to distinguish from other artists." Gadampu too had established his own style by capturing the essence of dance movements in acrylic forms.
Such is her dedication that, Meena periodically visits Shantiniketan in West Bengal, to procure her painting brushes as the materials available there are considered "best in the country" though she acquires colours for her water-soluble acrylic based works from the national capital.
With the same conviction, Meena Laishram who has chosen "childhood memories" as her main theme continues to explore the world of fine arts and hopes to establish and distinguish herself from her counterparts.