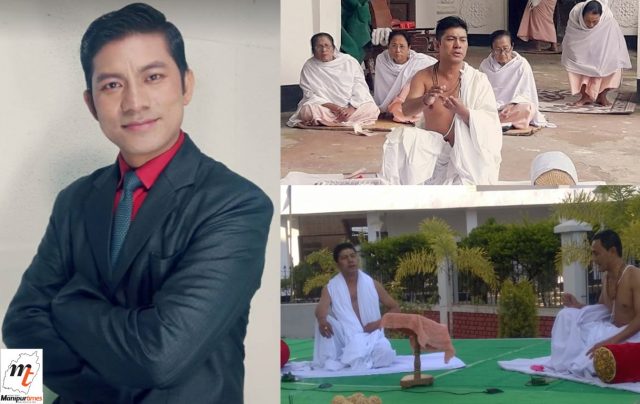 Among the varied art forms, the Manipuri tradition of Wari Leeba (storytelling) is a unique art form which is not found in any parts of the world. Wari Leeba is a narrative form of storytelling that has been a living tradition over the past few centuries in Manipur. This particular age-old art form is now on the verge of extinction due to lack of patronage. Many veteran waree Leeba artistes have passed away with the passage of time except a few trying to revive the legacy. In such a crucial juncture of the unique art form, Takhellambam Shyamkanhai, a young and dynamic Waree Leeba artiste, is making relentless efforts to preserve the dying Waree Leeba tradition.
Learning the art
Born on March 24, 1982 at Keibi Tiger camp in Imphal east, Takhellambam Shyamkanhai is the sixth son among seven siblings of Takhellambam Nimaichand and Takhellambam Ongbi Khambi. He is currently staying at Khurai Nandeibam Leikai, Chaithabi Leirak. Brought up in a family of great culture background, Shyamkanhai was highly motivated by his late grandfather Takhellambam Tomba, an ex-panchayat member and a great exponent of Manipuri Nata Sankritana (Duhar) to initiate the art form. At his 12 years of age, he followed the footsteps of his brother while learning waree leeba art under guru Amom Lala Singh of Keibi, a Manipuri Sahitya Parishad awardee. The guru knew the artistic talent in Shaymkanhai and told him to learn the art like his brother.
He also learnt the art of Waree Leeba (story telling) under different gurus like Okram Baruni Singh (Manipur State Kala Akademi awardee), Ch. Kondum Singh (Manipur State Kala Academy awardee), L. Mani Singh (Manipur State Kala Academy awardee), S. Ishehana and H. Amutombi Singh(Manipur State Kala Akademi awardee. As a Waree Leeba artiste, Shaymkanhai has been imparting the age-old wisdom, philosophical and religious ideas of the classical Hindu scriptures and epic like Mahabharat, Ramayan and Hindu Purans.
Shaymkanhai said that Waree Liba is an art form that does not require any musical instrument except a pillow. Wari Leeba involves a single performer who integrates character dialogue, rhythmic narration, various dramatic techniques, humour, and exaggeration to bring to life stories and characters in a form of popular entertainment. The performer extends his repertoire by using a pillow that is placed by the side of the performer, left or right, which for the sake of emphasis he will beat many times while narrating his story. The literal meaning of Wari Leeba is story telling but it is distinguished from the normal tale-telling practice. It is usually a formal public performance devoted to the Hindu epics, the Mahabharata or the Ramayana and other religious tales in parts or the entire texts as may be desired by the audience. Generally such storytelling has multidimensional objectives. It contains important and practical knowledge, and age-old wisdom, philosophical and religious ideas from the classical Hindu scriptures, and secular epic poems.
Awards and Honours
He was the first Waree Leeba Artiste who bagged the Ustad Bismillah Khan Yuva Puraskar 2009 under National Sangeet Academy, New Delhi. His other achievements includes talent scholarship 1995 under Centre for Cultural Resources and Training (CCRT) New Delhi, Young Scholarship 2000 under the Manipur State Kala Academy, Imphal, Young Scholarship 2003 under Ministry of Tourism & Culture, Dept. of culture, Government of India, Director of the Workshop cum production on Waree Leba financed by Ministry of Tourism & Culture, Department of Culture, Government of India also produced a form of Waree Leeba under creative form, Guru S. Pishak Singh Ningshing mana "Abhinandan Pattra" on July 11, 2010 by Shri Shri Govindajee Nata Sankirtana Academy, Imphal, Moirangthem Ningthou Ningshing Mana on August 28, 2010 by Union of Social Upliftment Khurai (an apex body of Imphal East district, Felicitated by Khurai Kala Vidya Bhavan on 4th September 2010, Felicitated by All Manipur Waree Leeba Association and Research Centre on 19th January 2011, District Youth Award 2011 by Nehru Kendra Sangathan, Government of India, Junior Fellowship 2011-12 under Ministry of Culture, Government of India
Work and experience in the field of Waree Leeba:
He started Waree Leeba as an AIR and DDK child artist since 1994. His performance was telecasted at DDK Imphal on special youth variety programme 'Leichal' 1998, at DDK Imphal on students' variety programme representing Johnstone Higher Secondary School 1999. He is an approved senior artist of AIR Imphal since 2000 and also performed Imphal DDk and DDK (NE) Guwahati. His Waree Leeba performance was telecasted at ISTV Network since 2000, as a special programme at AIR Imphal 'Talent of the month' 2006 and 'Youth Icon' 2008 as a North East package' and 'Young Talent Programme at DDK Imphal 2010
Performance outside the State
Shaymkanhai popularized the Waree Leeba tradition outside the state by visiting many places. He performed at different places of Assam under the invitation of different organizations. He gave special performance at the function of 'Chahi Taret Khuntakpa Ningshing Numit on January 9, 2006 at Hojai, Nagaon district, Assam, Performed Waree Leeba art at a seminar on 'Mahabharatta and Indian Dance: In Classical and Folk Perspective on March 28, 2007 at Vidyasagar Hall, Kolkata organized by Asiatic Soceity, Park Street, Kolkata, Performed Waree Leeba at different places of Kolkata from 14 to 17 August 2007 at the Festival of Art of Story Telling at Kala Mandir on 16th August 2007 and Palladian House on 17th August 2007 organised by ANJIKA, INTACH, 100 PIPERS, PATTON & OPEN DOORS in collaboration with West Bengal State kala Akademi, Performed Waree Leeba at Stien Auditorium, India Habitat Centre, New Delhi in the 10th National Festival of New Choreography 2008 organised by Impresario India in association with Habitat Worlds, India Habitat Centre, Performed Waree Leeba at the festival of dance theatre 'Natyanjali' on January 23, 2009 at Ravindra Natya Hall, Mumbai jointly organized by Sangeet natak Akademi, New Delhi, Directorate of Cultural Affairs, Government of Maharastra and PL Deshpande Maharastra Kala Academy, Mumbai, Performed Waree Leeba at the Dance Festival 2010 from 3rd January to 9th January 2010 at TT Krishnamachari Auditorium, Chennai organized by Music Academy Madras, Performed Waree Leeba at Kala Kshetra Foundation, Chennai on March 2010.
Invitation
He was Invited to conduct Waree Leeba (story telling) demo workshop on 'Theatre-in-life Project' organized by Padmashri H. Kanhailal Singh, Kala Kshetra Manipur, to conduct Waree Leeba Demonstration several times at LAIHUI (a centre for Research on traditional and Indigenous arts of Manipur), Invited to conduct Waree Leeba Demo as a faculty member for 45 days theatre wokshop from 22 July to 5th September 2009 under Extension Programme, NSD, New Delhi organized by Theatre Mirror in collaboration with Leimayol Arts Centre, Imphal.
He worked as Anchor and director of IGCNA, New Delhi for Ramkatha Project, June 2012, Script and Consultant of 'Abhimanyu in the Chakravyuh' ballet organized by Performing Artiste Centre Imphal under Sangeet Natak Akademi, New Delhi.
Shaymkanhai is presently working as a professional Waree Leeba artist of Manipur. He is the director of Repertory of Waree Leeba, Manipur Khurai Chaithabi Leirak, Imphal and was a former General Secretary of All Manipur Waree Leeba Association and Research Centre and former Reporter cum News reader of ISTV News Programme and presently working as News Anchor of Impact TV.
He said that most artistes in the state are not economically sound. Concerned department is yet to provide suitable seats to the artistes who have bagged national awards in the field of art while the government is encouraging the sportspersons by providing suitable jobs. Despite the fact, we, the artistes, are making all out effort to promote the languishing art form.