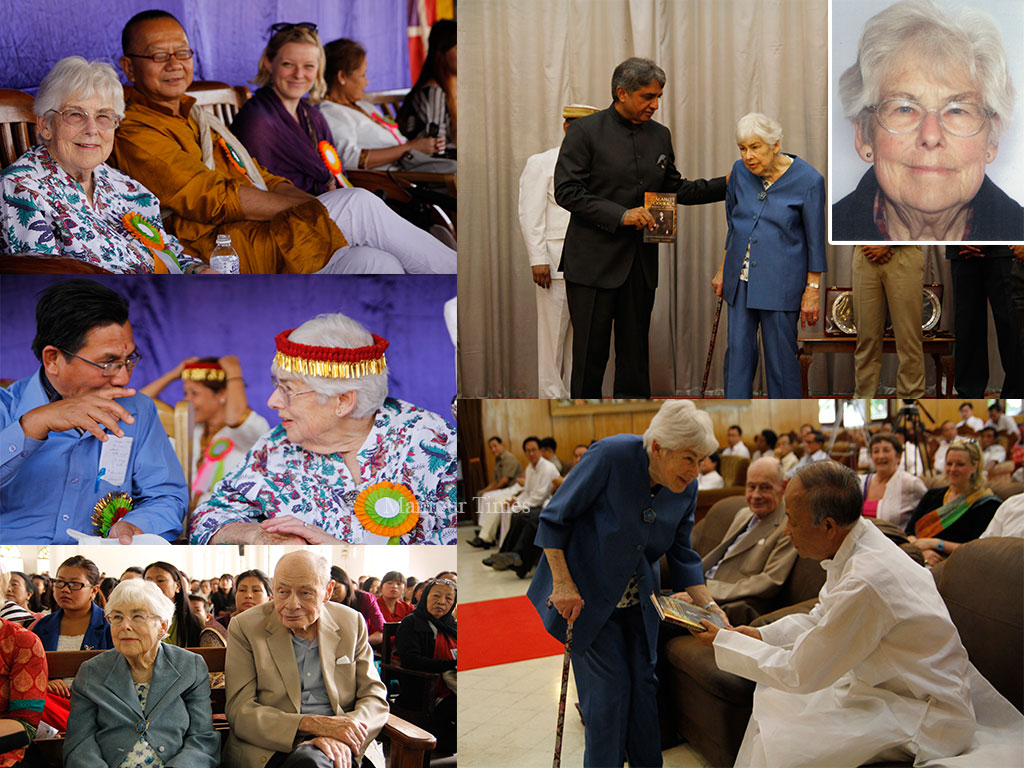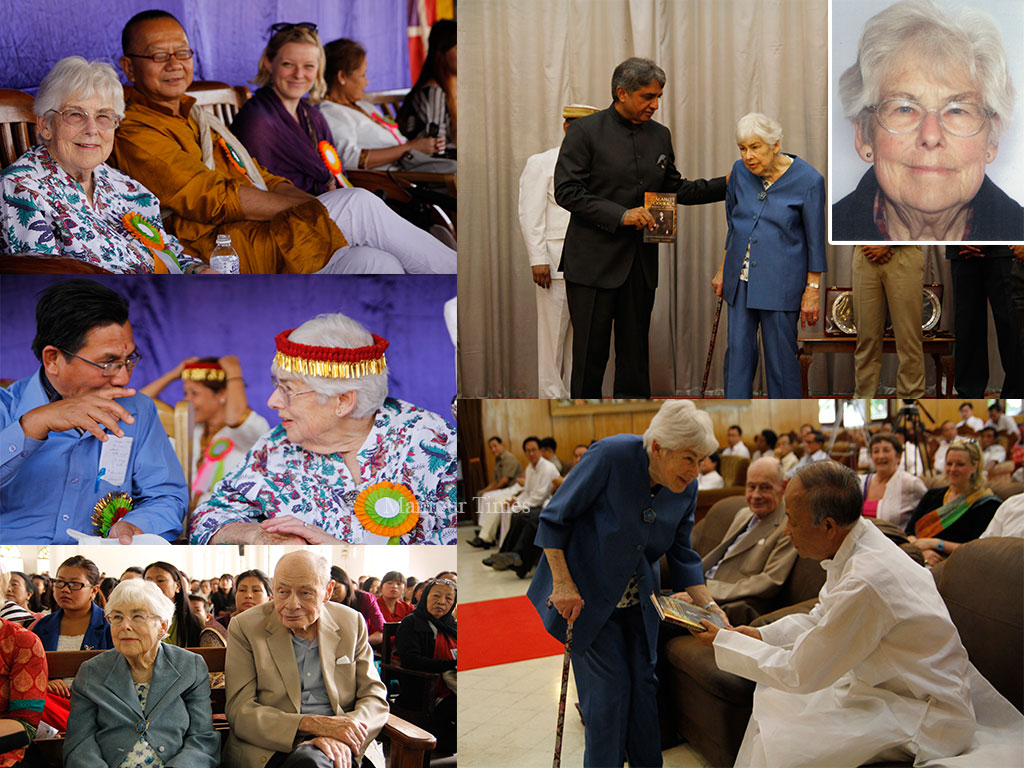 It would have be a big challenge for an 80-year old to fly beyond 10,500 miles all the way from London to Imphal. But for  Lady Belinda Morse, it was like coming back home. She was in Manipur with her husband Jeremy Morse from Drayton Garden,  London to release her book  'Calamity and Courage: A Heroine of the Raj' on April 18 braving the long and tiring journey.
She told Manipur Times that her visit was interesting, and felt wonderful to have visited the places and that she have read a lot about Manipur.
Lady Belinda Morse, who penned a historical insight about 'the story of Ethel Grimwood and Manipur' in  her book 'Calamity and Courage: A Heroine of the Raj', was released on 19th of April by the Governor VK Duggal at the Darbar Hall of Raj Bhavan. The book is in its second edition for Indian Subcontinent, re-printed and published in Manipur itself in 2014 by Imashi Publications. Its first publication was by Book Guild Publishing in 2006 in England. And, according to Lady Belinda Mores, the book is dedicated to the people of Manipur, in the hope that peace may return to this beautiful land.
The book release function was attended by Chief Minister O Ibobi, PHED Minister I Hemochandra, Works Minister Dr Kh Ratankumar, Secretary to the Governor RK Nimai, Lady Belinda Morse, Sir Jeremy Morse, Judith and Kat Macaulay, who is also a descendent of the Frank Grimwood. Kat Macaulay said, "I am not her great-grand-daughter but my three-great grandfather was his oldest brother(Frank). She said that her purpose of visiting Manipur is not only to be part of the book release but also trace her family history.
When Manipur Times asked about their visit to Mr and Mrs Morse, Jeremy Morse stated "We have done everything that we wanted to do". Jeremy, who is a retired banker and who has served  as a Chairman of LLOYDS BANKS (1977-1993,) has always been supportive of Belinda.  "We visited Kangla, CM House where they had breakfast together with CM, Loktak Lake, a museum in Moirang, Leimatak Hill, to see where Ethel climbed the hill in 1981.  Lady Belinda said it was an honour to release her book at Raj Bhavan. She further stated, "Well, our impression is good. Since we last came, we think the city is looking clean and the peoples are more enthusiastic; life in general may be, now you've seen international flights with Burma (Myanmar) that seems to be more welcoming for the foreigners."
Lady Belinda and Jeremy Morse, together with Royal British Legion, made their first visit in Manipur and Kohima in 2006 with an intent to visit the WW-II cemeteries and the war graves but their expectation to see peoples, important places and things  were not able to meet but couldn't do so.
She also visited Ema keithel which now looks clean because of the Blooming Ema Keithel initiative by Bishwarjit Elangbam, and his brother Satya Elangbam. Blooming Ema Keithel, is inspired by Britain in Bloom, which encourages with efforts to transformed the state making efforts to encouraged and transformed the land we called our home with some loving and caring gardening acts.
Belinda Morse is the great- grand-daughter of John Hanson Walker, who was a renowned  portraitist during queen Victoria's reign and exhibited his portrait of Ethel Grimwood at Royal Academy. I read about Ethel Grimwood because of my great grand-father.
When Manipur Times asked about her current works, she said that she is now retired. Besides her other works, she has also served as a Tourist guide in London. She earned the Blue Badge, which  is the UK's highest tourist guiding qualification.
Belinda's second visit to release her book came only after several years of communication with Somi Roy, whom she got to know from Dr Nimai.
Belinda's message for the people was simple but meaningful, when Manipur Times asked what message she wish to leave for the people before she left, "I hope Manipur becomes a peaceful place. A place to enjoy, to keep it beautiful, not to abandon old wonderful customs. "