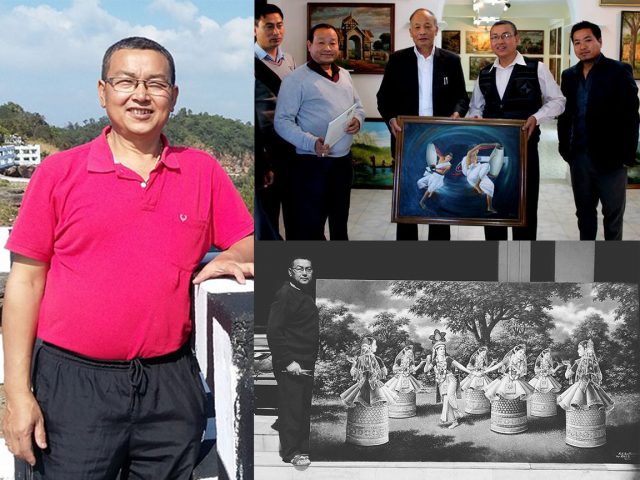 Painting in Manipur is synonymous with RKCS short form of RK Chandrajitsana Singh. Among many Manipuris, RKCS is the only painter whom we know. In 1947 RKCS established his art studio under the title of "The RKCS,Chitralaya" which has become an alma mater for serious professional artists in Manipur. RKCS Art gallery officially inaugurated as full fledged gallery, on 5th May 2003. After the shocking news of RKCS's demise in November 2004, his third son Rajkumar Budhimanta has been silently carrying forward his great father's legacy. He is the only son among six sons and two daughters of Rajkumar Chandrajitsana Singh (RKCS) who continues painting as a profession after his father's demise in 2004 although his eldest brother also did some paintings in the past.
RK Budhimanta is the fourth generation in an artists' family. His great grandfather Rajkumar Goura Singh (1828-1922) and grandfather Rajkumar Yumjaosana Singh (1870-1954) were also great painters of their time. Budhimanta told with a smile, "We are carrying on the longest tradition of painting in Manipur."
Needless to mention, he was inspired by his legendary father to become a painter. He said that he received his first prize in a children painting competition organized by Fancy Youth Association in 1968. As a child, he was interested in painting and he tried his hands on canvas quite often. He passed his Matriculation from Ramlal Paul High School under Board of Secondary Education Manipur in 1974. Later he studied in DM College, Imphal and passed his Pre-University (PU) examination in 1976.
In his Graduation, he studied Education and passed out BA from DM College under Gauhati University in 1979.
Budhimanta said that he began professional painting from his college days. He used to paint hoardings for cinema halls like Imphal Talkies, Usha and Friends Talkies under his father. He said, "Poster for the movie, 'The Red Tent' was my first film hoarding."
Ten Years of Un-wellness
Budhimanta said that RKCS was not keeping well from 1980 to 1990. However, the great painter not only continued his works but also produced most of his masterpieces during this time. Budhimanta said, "My father was a diabetic and he was suffering from hypertension apart from giving troubles by his left eye. But he did not give up his passion for hard work against doctor's advice."
As a result, RKCS totally lose vision of his left eye in 1991. But he entered the Limca Book of Records in 1994 for exhibiting most number of historical paintings in a solo exhibition held at GM hall in 1990. With the paintings which RKCS developed during 1980s, his popularity soared in 1990s and he was flooded with orders. That's the time, RK Budhimanta took the plunge to expose his talents by doing most of the paintings for the orders that his father received. In 1995, he supported his father in 'Expression Manipur Project' that comprised 38 paintings.
The ace painter is not only a treasure trove of Manipur history but also a social thinker. And his thoughts are clearly reflected in his works.
Budhimanta said, "My medium is oil on canvas and my most demanded paintings are Ras Lila, Pung Cholom, Khamba Thoibi, Tribal Culture, Manipuri indigenous games like Polo, Thang-Ta and other martial arts". His paintings of marathon hunger striker Irom Sharmila and a collection of hundreds of cartoon are the clear testimony of his concern about the present turmoils.
Budhimanta said that he sent a portrait of Mother Teresa wishing her for early recovery when she was bed-ridden in 1997. He also sent a portrait of Bill Clinton when he was elected for the second term in 1996. The ace painter received commendation letters from the Missionaries of Charity and White House on both the occasions.
In the local market, portraits for elders and forefathers are mostly demanded, he said. Paintings under the themes like peace, philosophy and satiristic are also regularly developed.
Other hobbies
Gardening, bottle art, innovative art and topiary art are Budhimanta's other hobbies. He was adjudged four first prizes in a flower show held at Imphal Hotel in 1990.
Personal Life
Rajkumar Budhimanta was married to Haobam Ningol Saroja Devi on August 18, 1984. The couple have one son and two daughters. Their son has completed MBA and the eldest daughter is a dentist while the second daughter is pursuing Graduation.
He said that he develops six to ten paintings a month and he has been planning to set up an art complex in memory of his late father RKCS.
Awards and Honours 
He was awarded Manipur State Kala Akademi award in 1994. Other awards he had received include Gold Medal in Inter-College Youth Festival organized by Gauhati University in 1979, award in All India Exhibition of Arts organized by Arts Society Manipur in 1985.
Works and Collections
Budhimanta has so far developed 400 original paintings on canvas and 270 miniature paintings on shell. Around 300 paintings have been commercially collected by different individuals and agencies so far. He still has 100 original paintings. He has worked as a cartoonist at 'Poknapham' vernacular newspaper from 1997 to 2002.
His works had been collected by private individuals and government both in the country and foreign countries that include Japan, USA, UK, Switzerland, Spain, Italy, Bangladesh, Nepal and Myanmar etc. Budhimanta's paintings now adorn the walls of Lalit Kala Akademi, Kolkata, Kala Akademi, Goa, Rashtrapati Bhavan, Kangla Museum, Raj Bhavan of Imphal, Raj Bhavan of Aizawl, White House, Mother House in Mother Teresa's Missionaries of Charity in Kolkata, 57 Mountain Division, Assam Rifles, 25 BRTF, 4 Corps, 3 Corps, RBI Guwahati, former Goa Chief Minister Luzinho Faleiro's residence and AICC president Sonia Gandhi's residence and other private collectors.
Associations
Rajkumar Budhimanta is a life member of Manipur Arts Society and the incumbent secretary of RKCS Museum of Arts and Crafts (RMAC), Imphal.
He is also the proprietor of RKCS Chitralaya, Keishamthong, Imphal. He had participated group art exhibitions three times in Kolkata, two times each in Goa and Delhi and one each in Shillong, Bhubaneshwar and Guwahati. He had organized his solo exhibition in Imphal in 1994 and two-men show in Madras in 1995.