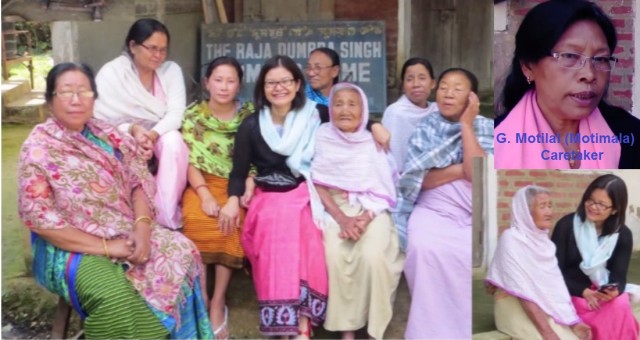 Source: Finding The Voices
Home is where we find comfortable and of course the safest place in the world entire. It's not only about we human but even the wild animals make their own home to live and to protect from scorching sun, torrential rain, frosty wind and from other creatures. The Raja Dumbra Singh Women's Home is one of the oldest homes providing a good shelter to women, who are vulnerable and have no one to help and support when turning back. This women's home have been serving the Manipuri women folk since years back extending another hope of life to live on. The home teaches a lesson to everybody to live together without greedy but on charity.
Vision of decades ago
The Raja Dumbra Singh Women's Home was established by (L) Rk. Mukhrasana, founder of All Manipur Women Association and was inaugurated by Pranab Mukherjee, the present Hon'ble President of India in 1973. This home is mostly funded by All Manipur Women Association without entertaining any help from government. The head office of All Manipur Women Association is at Keishamthong staffing under the president-ship of K. Binodini hailing from Keishampat and Rk. Priyadashi, daughter of Late Rk. Mukhrasana, is the Secretary. The staffs of the Women Association are looking after the Women's Home since its inception. Talking to G. Motimala, popularly known as Motilal, she reveals that she has been looking after the home since 1992 as Superintendent and now she is the care taker of the home. In our society women are considered weak and dependant, they are victimized in many pity household issues which in turn commit themselves to take extreme action, even suicide. It happens to many women, irrespective of nature of conflict, who are educated and to those who received no light of formal education also. Motilal assures that Rk. Mukhrasana might had a long vision during her life time some four decades ago that she could imagine the pathetic conditions and circumstances that would be faced by elderly women when their family neglect and disown them. The instinct compelled her to establish this home and consequently the home serves the needy purposefully when her vision came into picture today in our turmoil society.
Running a home sans government help
In the compound of Raja Dumbra Singh Women's Home, there are another two such homes. One is Working Women Hostel and other is Short Stay Home. The hostel provides accommodation at lower rent charges to those women from far flung villages working in the heart of Imphal city. Short stay home is mean for those women, who are amidst the conflict, may be due to property, quarrel with in-laws or other family matters, longing for settlement. At the maximum one can stay at Short Stay Home for three years and during that tenure, the Association tries to work out and bring an understanding between the woman and her family. They try re-establishing the relation between wife and husband or in-laws. Once the Social Welfare Department used to help the home by giving a sum of Rs. 20,000/- per annum some 6/7 years back, but then it was cancelled of being a part of non-plan, counts Motilal. The home provides accommodation to about 25 inmates but may increase or decrease two to three. At present the number of inmates is 15. They cannot receive all those who seek for accommodation due to limited resources. Motilal says that they have to choose those women who are 60 years old and above and who can work and earn for smooth functioning of the home. The home gets help from local people in and around the city but rarely.
Home away from home
The home is expensing all the charges when someone fell sick. The care taker or someone helper rosters the duty when anyone is hospitalized. The staff of the Association includes doctor and medical experts too. They conduct medical check-up for inmates timely. Motilal reveals that the Women's home and the Women's Association perform rituals like Saradha of those who died there if the families of deceased do not claim to perform the rituals of their own. The common problem of women which compelled them to leave their own home is quarrel with husband or in-laws, or lost of all near and dear one responsible to look after, counts Motilal. In spite of having many laws and regulations to empower women, the rate of crime against women never drops down. It is due to lack of moral education, social education and knowledge about married life, added Motilal. Indu, a widow of about 65 years old, who has been staying here for past 20 years, shares that staying here at Women's home feels better and safe. After her husband, an employee at University, died she lost her one daughter and another got married. She was alone and never wanted to interfere in property dispute among her husband's family heads, so she step out of her husband's home forever.
The weak and lean home
The Home is providing minimum facilities to inmates. There is no properly fitted electricity, no fan, no adequate bathrooms and toilets. The house need repair as the constructed framework is old, weak and weighted. Each shattered walls and pillars bear different story of how and why they turned up there seeking for shelter. Ibeton, a 92 years old woman, reveals that she was unable to tolerate the behaviors and food habits of younger generation in her family for long, so she left her home. Whose fault is this, the changing modern world or the precious culture and tradition? How about woman who could not become a mother? Or who can't bear a son? 56 years old Thaba, hailing from Malom, who has been staying here for last four years, failed to challenge today's dirty society. She was married but could not become a mother. Against her in-laws' expostulation she divorced her husband and returned to her maiden home looking after her parents, as she was the only daughter born to her parents. Her father died and after few years mother too passed away. She could not stand alone for long against social discrimination and at the same time she felt unsafe and afraid of solitary. Thus she left her home.
Fate is something we cannot change. It happened to be an awful story when listen to the story revealed by Ibempishak who is 80 years old staying at Women's home recently. She lost all her property when treating her ailment son who could not be saved. Future betrayed her leaving no option other than living on some body's charity. We cannot predict what will happen at the next moment. Life in unpredictable and uncertain, it's like moving into wild cutting own road. So let's help the needy. Whoever serves one life, serves the world entire.