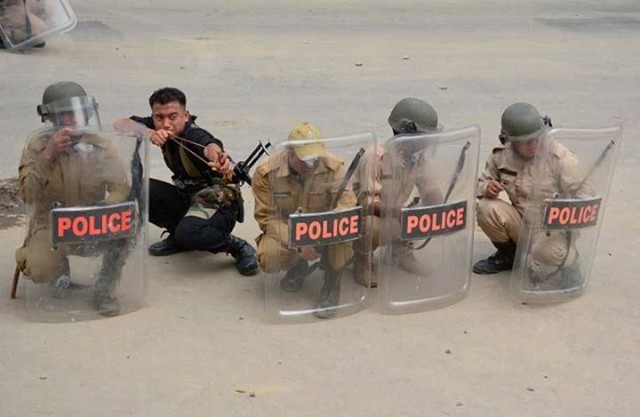 10th July 2015: The Centre for Organisation Research and Education (CORE) Manipur continues to reiterate its position that the widely reported brutality and totally disproportionate use of force by the Manipur Police is a definitive sign of the utter failure of the State administration to respond to the democratic voice of the indigenous people of Manipur in a way that demonstrates its commitments to the Constitution of democratic India and international human rights law.
The reported violent attack today by the police forces on the home of the grieving family of the Late Sapam Robinhood at Khurai Lairikyengbam Leikai, using tear gas and other projectiles, is a clear violation of domestic and international standards of humanitarian and human rights law. In this land, it is the tradition for families to undertake a fast until the last death rites are completed. A family undertaking this ritual fast has been brutally attacked by the state. This act is absolutely unpardonable.
Throughout today, reports continued to pour in along with graphic photographs of civilian protestors all over the Imphal Valley against the homicide committed by the police on 8th July 2015 and demanding a law that protects the native people of Manipur from annihilation being subjected to torture and cruel and inhuman degrading treatment or punishment by the police.
With this latest development, as reported, the State of Manipur has been purposefully plunged into a situation of direct and violent confrontation between the government and its people. This situation has been allowed to happen during a sitting of the State Assembly. The state government has been distorted into a monolithic oppressive creature that perpetrates open violence against its subjects. The present government, under the leadership of sitting MLAs Okram Ibobi Singh and Gaikhangam as Chief Minister and Deputy Chief Minister who is also in additional charge of home affairs, respectively, has abdicated all moral and legal authority to continue.
We are in total support of the legitimate demands of the people of Manipur for a strong legal statute that provides safeguards to the native population for their survival, livelihood, land and culture. It is utterly beyond our comprehension how legislators elected by the people of Manipur have abandoned them at this critical hour, taking umbrage behind imagined legal technicalities while their collective political will is shamefully surrendered.
We once again appeal to this government to show some basic humanity and respect of the law. A government that has no regard for the law and constitution has no moral authority to issue any direction or advice to the people because it has lost its legitimacy. A full scale impartial judicial inquiry to investigate the events of these last few days is called for, and we are deeply concerned that Manipur is rapidly sinking into total anarchy.
[Dr. Laifungbam Debabrata Roy]
President
Elders' Council