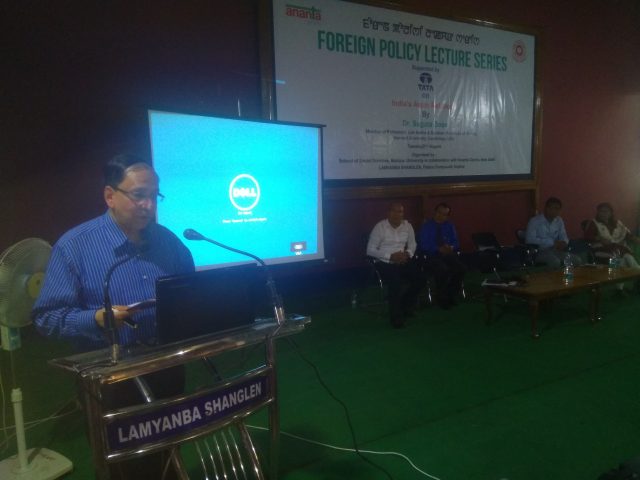 FOREIGN POLICY LECTURE SERIES on 
'India's Asian Relations' 
By Dr. Sugata Bose
Member of Parliament, Lok Sabha & Gardiner Professor of History, Harvard University, Cambridge, USA 
on Tuesday, 21st August 2018 
Organised by: School of Social Sciences, Manipur University 
in collaboration with Ananta Centre, New Delhi 
Venue: LAMYANBA SHANGLEN
The programme started with a Welcome remark by Dr. Rajen Singh Laishram, Department of Political Science, Manipur Central University. Dr. Naorem Lokendra Singh, Professor of History, Manipur Central University, in his introduction of the Keynote Address gave a brief biographical profile of Dr. Sugata Bose, and his association with the nationalist 'Bose' family of West Bengal. Dr. Bose has served as Director of Graduate Studies in History at Harvard and was the Founding Director of Harvard's South Asia Institute. Prior to taking up the Gardiner Chair at Harvard in 2001, Bose was a Fellow of St.Catharine's College, University of Cambridge, and Professor of History and Diplomacy at Tufts University. Bose was educated at Presidency College, Calcutta, and the University of Cambridge where he obtained his doctoral degree. His scholarship has contributed to a deeper understanding of colonial and post-colonial political economy, the relation between rural and urban domains, inter-regional arenas of travel, trade and imagination across the Indian Ocean, and Indian ethical discourses, political philosophy and economic thought. His published works include the much-acclaimed A Hundred Horizons: the Indian Ocean in the Age of Global Empire and His Majesty's Opponent: Subhas Chandra Bose and India's Struggle against Empire.
Dr.Amar Yumnam, Professor of Economics, Manipur Central University gave the closing observations and remarks.He remarked that listening to Dr. Bose was an emotional experience which is much more than an academic engagement. The programme ended with the proposal of Vote of Thanks by Dr.Vijaylakshmi Brara, Centre for Manipur Studies, Manipur Central University.
In his Lecture titled, "India's Asian Relation" Dr. Sugata Bose dwelled on the nascent churnings in the 20th Century that led to the evolution of the Asian entity, the very idea of Asia beyond geographical boundaries, the values associated with this great continent, and which today has recovered a global position. In the discourse on the idea of Asia and the Indian connection, Dr. Bose deliberated how Rabindranath Tagore occupies an imminent position, and his bagging of the Nobel Prize is a testimony to the ideal. Dr. Bose underscored that modern history can be interpreted as the interplay of multiple universities and identified the roles played by not only Tagore but also by Okakura and Subhaschandra Bose, wherein they presented their views on universalism, patriotism and internationalism.These great personalities agreed to the core value that universalism and patriotism are not contradictory.There can be love for one's country while being a protagonist of universalism.While Tagore was a pointer in this direction, Bose emphasized on national sovereignty, reciprocity and freedom as an internationalist.These great personalities stood for Asian unity.
Bose also focused on trajectory of anti-colonial struggle in Asia and how the Asian universalism took place with the growth of Islamic nationalism, which ultimately tied with India's nationalism as a fight against colonialism in Asia in the early 1900s, the birth of Azad Hibd Fauj (INA) during the turbulent times in India and Asia, about choosing an ally, the intersections and a collective vision. Bose concluded that while the ideals of unity bind Asia, nevertheless, there are acrimonies that impede the very procces
of unity. Yet, one has to be comforted by the values that defined Asia and its struggle for freedom and reciprocity.