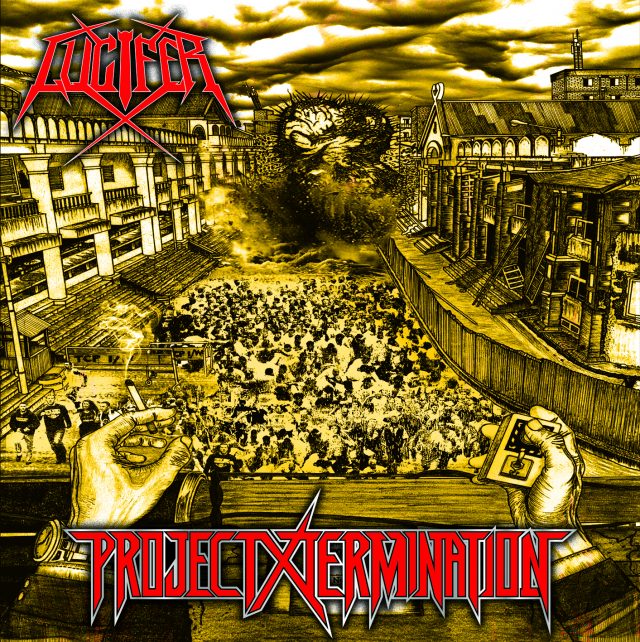 Imphal, 25 Sep.2017: Lucifer-X a five piece Thrash Metal band based in Imphal who have been active from 2012 are releasing their 5 tracks debut EP album "PROJECT XTERMINATION" On 26 TH of September on the Annual 5 th edition of one of the most prominent Metal Music Concert Road to Rampage V hosted by Metal Justice. The band will be performing the entire set of tracks from the self release album. The artwork design of the album is done by Johnny Konjengbam who has done much marvelous work for metal bands and metal festival in Imphal. The scenario of the artwork is portrays in the center of Ima Keithel.
The band is working with sound check to promote the album and a mini tour across state which is yet to be announced. The album will be distributed by Vitality Music (An extreme music /merchandise distribution)
In an exclusive stream of their track Xtreme Tech from their upcoming release in an USA webzine www.toiletovhell.com the band said "THE LYRICAL THEME OF THE SONG MAINLY FOCUSED ON THE DOWNFALL AND DEGRADATION OF HUMAN EXISTENCE BROUGHT BY THE ADVANCEMENT AND ABASEMENT OF MAN-MADE TECHNOLOGIES, AND WARFARE IN THE CURRENT SOCIETY."
"The riffs are intense, spine-tingling, and demand you to bang your head. The arrangement of the drums and production is probably alleviating the actual frenetic nature of the music, but picturing the live version of this track, I can only imagine myself getting caught in a never-ending, vicious kind of mosh pit. The remaining tracks of the mini album are as overpowering as this one — one or two of them are arguably more so." says Toiletovhell.com
Witness the band live at RYO Ground ,Moirangkhom on 26 th September .Gate opens at 4:00 pm.
Lucifer X
Lamjingba-Vocal
Lenin –Guitar
Chand-Guitar
Birjit-Bass
Aagoo-drums
Regards
Kennedy Rk
Artist liaison
Sound Check
Email –kenshadow.2@gmail.com