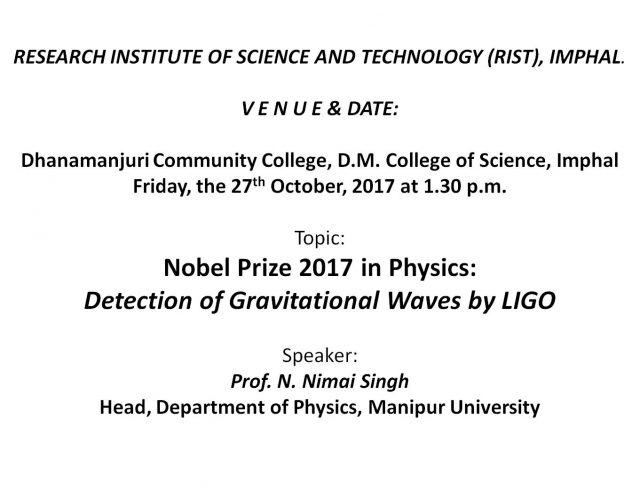 INVITATION FOR RIST POPULAR TALK:
You are cordially invited to attend the monthly popular talk series organized by the RESEARCH INSTITUTE OF SCIENCE AND TECHNOLOGY (RIST), IMPHAL.
V E N U E & DATE:
Dhanamanjuri Community College, D.M. College of Science, Imphal
Friday, the 27th October, 2017 at 1.30 p.m.
Topic:
Nobel Prize 2017 in Physics:
Detection of Gravitational Waves by LIGO
Speaker:
Prof. N. Nimai Singh
Head, Department of Physics, Manipur University
Abstract:
The Nobel Prize in Physics, 2017, was awarded to three American physicists for their pioneering contributions for the detection of gravitational waves (GW 150914) by Laser Interferometer Gravitational Wave Observatory (LIGO) which consists of two gigantic identical interferometers located over 3,000km away.
The talk will focus on the historical background of the LIGO gravitational wave detection on 14 September 2015, its announcement in February 2016, leading to the award of Nobel Prize 2017, and another two similar events since its discovery along with a recent discovery from VIRGO-LIGO collaboration in Pisa, Italy.
Implications of LIGO records, nature of gravitational wave and its two polarizations and the distortions of spacetime by the propagation of gravitational wave, will be discussed.
Finally the Indian connection with LIGO discovery and proposal for LIGO-India will also be highlighted. The talk will conclude with some controversies on the LIGO results as well as on the choice of the awardees, followed by a list of unsolved problems in cosmology such as the issue of Dark matter and Dark energy.
Convener,
RIST monthly popular talk series