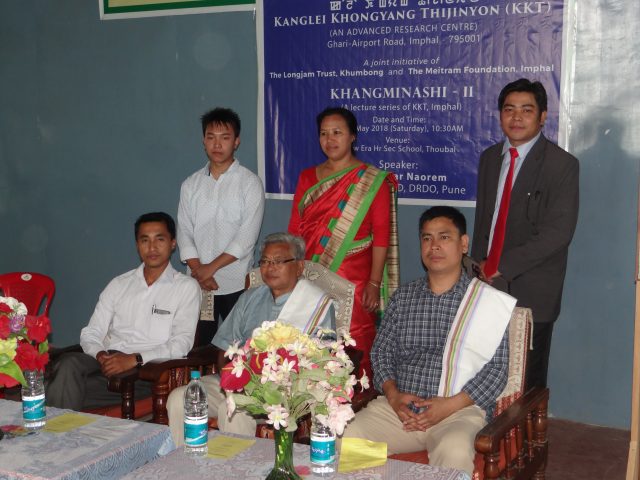 19th May 2018: Kanglei Khumang Thijinyon (KKT), Imphal, an advanced research centre, is an initiative under the joint collaboration of The Longjam Trust, Khumbong and The Meitram Foundation, Imphal.The main objective of the centre is to perform high end research in the field of science and technology and to set up a state of art research facility.
As one of its activities, the second edition of the Science Communication program,Khangminashi-II was organized on 19th May 2018 at the premises of New Era Hr Sec School,Thoubal. The function was graced by Er Giridhar Naorem, Jt Director, R&DE (E), DRDO, Pune as the guest speaker. He mention about composite materials utilized in various applications and also shown his desire to take up innovative ways to harness the natural resources available on earth. He enlightened the 200 strong audiences to work hard and to continuously give full effort till they succeed in life. Mr Thongam Kumar, Principal, New Era School mention about the benefits of such interaction program in molding a successful career.
Dr L Jaideva Singh, Director, KKT, Imphal elaborated on Khangminashi series, the Science Communication program of KKT, Imphal and further inform that the next seminar, Khangminashi-III will be organized at Model Hr Sec School, Imphal on 25th May 2018. The function was continued with the felicitation of the Er Giridhar (Resource person), Th Kumar (Principal, New Era Hr Sec School) and Mr Ojit (Founder, New Era Hr Sec School). The audience was kept alive with a quiz program by Mr Prakashsant, who enlightened the students with exciting question in the field of Science and Technology. Mr Kelvin, 2nd year BS-MS student of Indian Institute of Science, Education
and Research (IISER), Pune responded to various queries of the students. Dr Asem Satyabhama Devi,Coordinator, Khangminashi-II gave the vote of thanks and the function was concluded with a light refreshments.
(Dr L. Jaideva Singh)
Director
KKT, Imphal