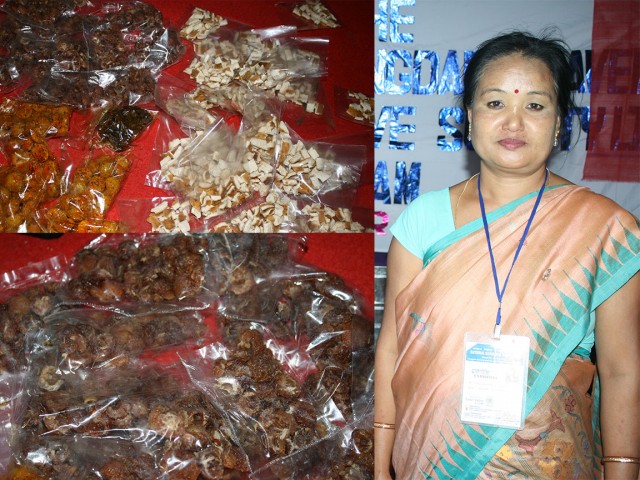 Yumnam Ongbi Arundayanti is a living example of success without much investment and strong family background. However, she possesses a strong will of self determination and self-confidence. She is a strong icon of Manipuri woman braving all odds and difficulties to keep the kitchen fire burning.
Life background
Naorem Ningol Yumnam Ongbi Arundayanti  Devi, (50 years), a woman entrepreneur who prepares varied pickles and candy products under the brand Arundayanti Food Processing,  is among the successful women entrepreneurs in Manipur. She provides employment to many women of her locality particularly the widowed women. She likes to improve the economic condition of such women struggling for their penury driven families and children.
She got married with Yumnam Rajen of Oinam Kangjeibung Mapal, Bishnupur district, Manipur and she is now a mother of one son and a daughter. Porompat. Her husband is a councilor of Oinam Naga Panchayat, who extends his best support to his better-half in taking up the business successfully.
Arundayanti, who completed B. Sc (Zoology) did not have a dream of owning a company or establishment when she finished her degrees. After marriage, she initiated her own vegetable and fruit vendor at Khwairamband Keithel to support her family. The idea of establishing a food processing company struck in her mind when she used to find many fruits got rotten during bandhs/general strikes while she was dealing with the fruit business. She was always thinking about how to preserve the fruits from decay.
Her passion to empower the widowed woman
"Another reason behind why I wanted to set up a food processing industry was to provide employment to the jobless local widowed women who are eking out a living with the meager income they earn from casual jobs. In Manipur, there are thousands of widowed women whose husbands had been killed in the hands of both the state and non state actors. These widowed women are struggling for their children and families, to keep the kitchen fire burning. I want to empower them, lift up their economic condition", she said.
Beginning of her entrepreneurial journey
Compelled by her passion for providing jobs to many jobless with setting up of a food processing industry of her own, Arundayanti left her vendor at Khwairamband Keithel and started her venture on food processing in 2012 with no formal training or skill. With only Rs 500, she began making processed foods like pickles and candy at her tiny home at Oinam with some fresh fruits purchased from Imphal. In course of time, as she felt the need of undergoing formal training, she joined one month food processing course under national food processing mission held at Food processing centre, Porompat.
After getting training in food processing, her business growth gained momentum successfully in terms of quality products and marketing strategy. With an initial capital investment on trial and error method, she set up her own firm Arundayanti Food Processing with six local women workers. The fresh fruits purchased from the Khwairamband Keithel, and hill areas mainly feed the raw material of her firm.
Initially, she sold her products to local retailers, friends and relatives. With the business initiated by the sweat of her own brow enabling her to fetch a comfortable profit and proving success, her spirit of Endeavour rose high thereby  investing more capital to prepare more products to attract more customers.
Products and employment
She has been able to provide employment to around 15 local women who are engaged in the work of processing and packaging of the varied pickle and candy items. Arundayanti and her team prepares varied pickle items such as fish, Chicken, Pork, Beef, Ngari, Thumyakpi and and Khajing  for non vegetarian groups and Soibum, Umorok, Mushroom, Hawaijar Akangba, Garlic, Turmeric, Heiribop, Mango,  Hangam (Mustard), Olive, Heimang Makup, Heitup, Heiku, Mange, Heining, Morok Atekpa (fresh Chilly), Heikru (gooseberry) for vegetarian groups.
Fund paucity cripples her dream of business expansion
She is planning to expand the business with the target of exporting her products to outside. The lady entrepreneur feels that economy of the state can be developed if the state government focuses to develop food processing sector in priority. Her willingness to expand the business cannot be materialized till date due to financial constraints.
The products of Arundayanti have been showcased in the food festival held at Bishnupur organized by Khadi and village Industries board, MSME food expo at Hapta Kangjeibung and Sangai festival. She had also joined in honey festival at Kangla organized by Horticulture dept.
Her farm sells honey too
No doubt, the lady entrepreneur is also a bee farmer. She also keeps around 10 bee boxes at home and sells the honey packed bottles. She also collects honey from her locality at whole sale rate. Her younger brother is the main supplier of honey.
Appeal to Government to encourage genuine entrepreneurs
Expressing concern over the increasing malpractices in selecting beneficiaries for financial grant or loans, she said Government needs to identify the genuine entrepreneurs while selecting beneficiaries for PMEGP or other schemes. Selection of beneficiaries by corrupt practices will waste the public money and the desire target of the schemes cannot be achieved. Many fake entrepreneurs rise up their heads as and when government issues notice regarding providing loans/grants. Such fake entrepreneurs misused the loan money in buying luxury cars instead of using the money in the proper way it should be.
[ecwid widgets="productbrowser search minicart" categories_per_row="3″ grid="10,3″ list="60″ table="60″ default_category_id="21230775″ category_view="grid" search_view="list" minicart_layout="MiniAttachToProductBrowser"]