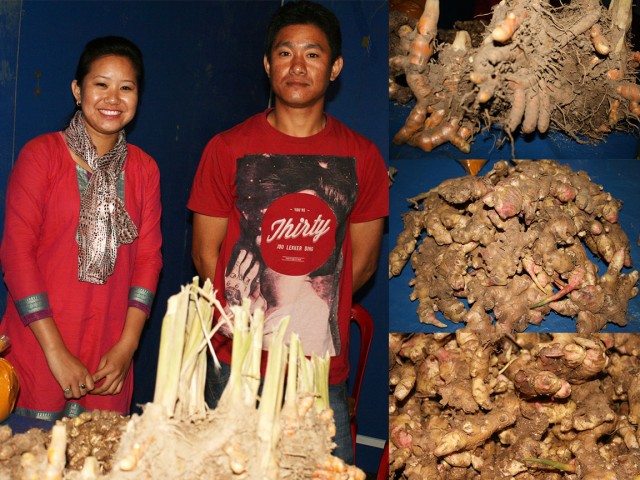 Gifted with suitable agro-climatic conditions and fertile soil, Manipur is home to various food and cash crops, fruits and vegetables. The soil is fertile and suited more particularly in the hills for growing of different fruits and vegetables.  Many farmers are successfully taking up cultivation of Pineapple, Oranges, passion fruit, mushroom, bamboo shoot, ginger and turmeric which are commercially cultivated in massive scale. Like any other cash crops, ginger and turmeric plantation has also found a place in the soils of Manipur and the state is also becoming the safe breeding ground for it.
Tapping the potential of Agro farming
Thirty years old Salam Borobabu Singh, an MBA degree holder and young agro- entrepreneur hailing from Khurai has tapped the potential of Agro based farming successfully making a brisk business.  A young and dynamic farmer Salam Borobabu is successfully taking up ginger and turmeric farming in his two Paris of land located at the foothill of Yaingangpokpi Sabungkhok Khunou in Imphal east. No doubt, he has been able to carve out a niche in the agro-based farming with an annual good turnover.
Born to Salam Ibopishak , an employee of Commerce and Industries Department, Government of Manipur, Salam Borobabu is the third son among four siblings of three daughters and one son. His father is the chief patron behind his successful venture.
Academic Background
Since childhood, Borobabu had a great passion for farming and becoming an entrepreneur. Compelled by his great passion to be an entrepreneur in life, he studied Post Graduate Diploma in Management (PGDM) at the Institute of Co-opertative Management (ICM) Lamphelpat after completion of his Bachelor of Commerce degree from DM College of Science. He also completed Master in Business Management (MBA) from Darwin of school business Guwahati in 2000. He assed matriculation from Young Pioneer English School and class XII from Johnstone Higher Secondary School.
Start of the business
After completion of his MBA, he initiated chicken farming which enabled him to earn a lucrative income. However, he left poultry farming after sometime and later on opted for agro-based business in 2013.  Once Borobabu revealed his father about his desire to start agro-based business in their paddy field located at Yaingangpokpo Sabungkhok Khunou in Imphal east which is about 20 km from Imphal. His father also readily agreed to his son's proposal.
In 2013, the young MBA graduate visited their family's paddy field and started working there. He tilled the paddy field, planted several turmeric and ginger saplings there. He did not get much profit the initial year as he started the farming without much technical knowhow and farming inputs. However, he could fetch some profit the next year.
Borobabu said that he grows other cash crops like peas, cabbage, chowhai, pan, pumpkin etc apart from ginger and turmeric in his farm.
Making a Brisk business now
Ginger crop harvested from his farm was sold at Rs 50 per kg.  He does not sell the turmeric directly to the costumers in raw and fresh, but in the form of powder. The fresh turmeric produces harvested were sliced and dried up in the sun. He then sends the dried turmeric pieces to other grinding factories for grinding into powders. The grinding factory used to charge him Rs 10 per kg of turmeric powder as grinding fee.
The well-packed turmeric powders are then made available to the costumers at whole sale rate.  "Last year, I could earn above Rs 25,000 from selling turmeric powder alone which highly motivated me", he said. My turmeric products are available in the market in particular Imphal and Lamlong Bazar. Demand for my ginger and turmeric from the interested costumers is on the rise that many customers continue to my house for buying the products. I am thinking of procuring a grinding machine of my own to solve the problem of grinding, he said.
Giving employment to many jobless
For the present, he runs the farm successfully with around 7/8 regular workers. Moreover, he engages other local workers on daily wages basis from time to time when needed for works like tilling, planting, watering the plants, harvesting, slicing and packaging and so on. For many people, his farm has been a source of livelihood.
He experienced Criticism at initial stage of the Business venture
It is natural for every entrepreneur to face criticism, demoralization at the initial stage.  The same happened to Borobabu too. Many people including his friends and relatives demoralized him with invectives when he ventured into the agro-based farming after completing his MBA degree. They suggested him to opt for working with a reputed company instead of taking up such agro-based farming in Manipur saying that such business in Manipur would not fetch him much income and help in leading a decent life. Paid no heed to the observations and comments, the young agro entrepreneur dared to go on with his venture.
Motive behind the business venture
Borobabu said that one of the reasons behind why he initiated such an agro-based farming in the state is to share his best contribution in providing employment to the educated jobless in the state as well as promoting the agro-based products of the state.
We have vast paddy land lying unused and dried up for months after harvesting a year's seasonal crop paddy. If we convert the dried field into ever greenery fields, the state can earn much income from agro farming and all the so called educated unemployed youths can be provided employment. Moreover, we will no longer depend on others for food. If we cultivate work culture, we have many jobs. Building up strong entrepreneurship spirit in the state will help solve the ever increasing unemployment problem, he observed.
Demand from outside
Ginger products have high demand from outside, he said adding that he has now received supply orders from a company in outside. One outside company approached him for bulk supply of ginger and turmeric produces when he highlighted his agro business in a meeting of NSIC.
Ginger is generally sold as raw ginger in local markets but there are several other products of ginger like dry ginger, ginger powder, ginger oil, and oleoresin. The oleoresin and oil are known as high value and low volume products, which have great demand in western countries. The varieties with less fiber, high dry matter recovery, and high oil and oleoresin contents are having great export potential in international markets, he said.
Message to people
Manipur is a land gifted with suitable agro-climatic conditions and fertile soil. We have ample opportunities for self employment by taking up farming in various food and cash crops, fruits and vegetable. Instead of wasting time in blaming the government for increasing unemployment problems, we better look out for other opportunities which can provide jobs to ourselves and others.
[ecwid widgets="productbrowser search minicart" categories_per_row="3″ grid="10,3″ list="60″ table="60″ default_category_id="21294227″ category_view="grid" search_view="list" minicart_layout="MiniAttachToProductBrowser"]
[ecwid widgets="productbrowser search minicart" categories_per_row="3″ grid="10,3″ list="60″ table="60″ default_category_id="21294227″ category_view="grid" search_view="list" minicart_layout="MiniAttachToProductBrowser"]