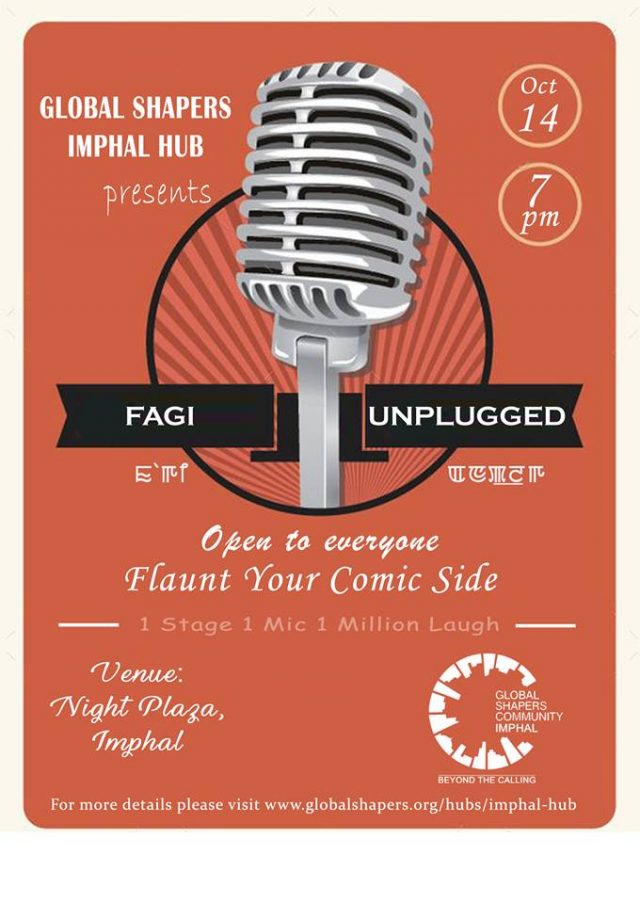 11th September 2017 : Global Shapers Imphal Hub brings to you "FAGI UNPLUGGED​", one of the most entertaining talent shows in Imphal city just for you at the very popular "Imphal Evening" a.k.a. "Night Plaza". The first competition of its kind in Manipur starting with the first Audition Round this Saturday!!
Night Plaza is just about to get noisier and better than before as we promise you a thousand laughs!!
WHO CAN PARTICIPATE?
Anyone with a lot of jokes up his/her sleeves!
HOW TO PARTICIPATE?
Register ON-THE-SPOT and claim your slot by 6.30 pm on Saturday
WHERE?
Night Plaza, Kangla Pat Road
WHEN?
14th October, Saturday; 7:00 Pm
REMEMBER:
1.This is an AUDITION. All selected participants will compete with their counterpart performers in the next rounds.
2.This is an open competition for all age groups
3.One has to be physically present and perform LIVE on stage
4.All participants are required to perform for 5 minutes (min.) in English or Meeteilon
REGISTRATION FEE?
A giggle. Just kidding, there is NO REGISTRATION FEE!!
HAVE A QUESTION?
Message Us Directly or Write to us at [email protected]
So People Of Manipur! Vamp up yourselves to experience the best of Imphal evening.
Sd/-
Elizabeth Okram
Curator, Global Shapers Imphal Hub
For more information on Global Shapers Imphal Hub,Follow us on –
http://globalshapers.org/hubs/imphal/
Facebook – https://www.facebook.com/globalshapersimphal/
Twitter – @GSImphal
Instagram – @globalshapersimphal