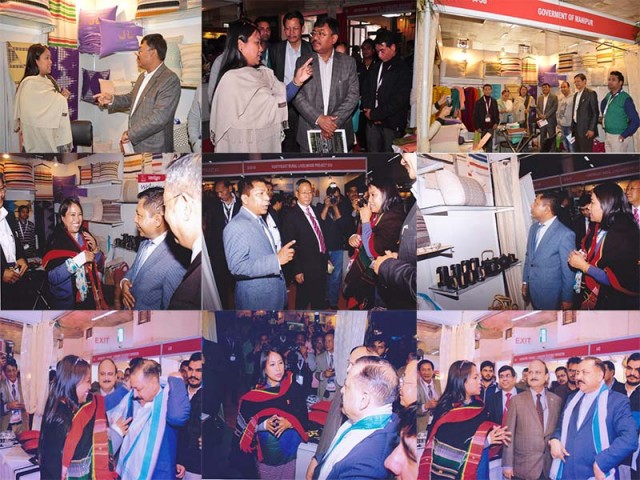 Ministry of DoNER, Govt. of India organised "Destination North East 2016" from 12 – 14 feb. 2016 at Pragati Maidan, New Delhi and was inaugurated by Dr. Jitendra Singh, Union Minister of State (I/C), DoNER on Dated 12 Feb. 2016.
Smt. Chirom Indira from Thangmeiband Lairenhanjaba Leikai, Imphal West, Imphal, Manipur was invited as a Resource Person both from DC Handlooms, Ministry of Textiles and Ministry of DoNER at a business summit on the theme of "Growing Up Value Chain from Handlooms to Fabrics to Garments" which was scheduled on 13th Feb. 2016. During the summit she presented about the potential of Manipuri Handlooms and handlooms products for the national and international markets. She was appreciated by all the panelist on the importance and role of the entrepreneurs for propagating of Manipur handlooms products to the International markets. She showcased/displayed her products (handlooms & handicrafts).
Not only this, her products were selected by Handloom Export Promotion Council (HEPC), Ministry of Textiles, Govt. of India and showcased at "Make in India week" Mumbai (13-18 Feb. 2016), which was inaugurated by Hon'ble Prime Minister Shri Narendra Modi on Dated 13th Feb. 2016. Her products have attracted by many customers.
Smt. Chirom Indira has a professional qualification in Handloom Technology, She has been working in this field since last 20 years. She has visited many European countries for business promotion. She is a Designer, Exporter, Entrepreneur and Social Worker as well.
DESTINATION NORTH EAST 2016
News submitted by :  Hijam Jiten