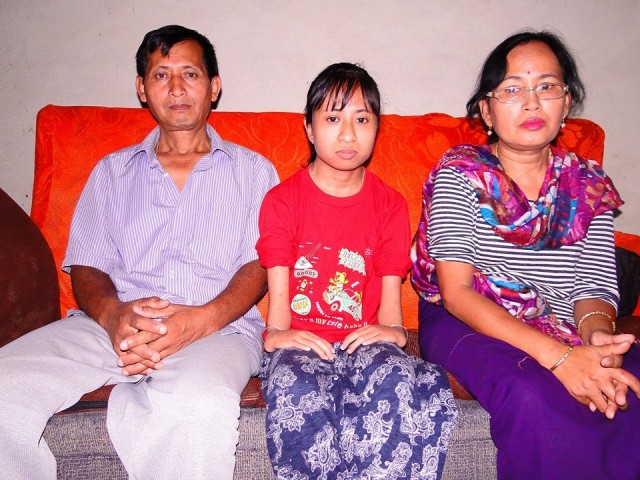 IMPHAL, May 14: Differently Abled Shijagurumaum Vivinita Devi has got letter marks in two subjects in the higher secondary examination2015 conducted by Council Of Higher Secondary Education,Manipur which was declared recently. Shijagurumaum Vivinita Devi is second daughter among five siblings (two daughters and one son) born to S.Shyamkishor Singh and S Rinakumari Devi of Uripok Achom Leikai, imphal west district.
Her achievement in the examination has brought laurels for Ibotonsana girls' higher secondary school, Uripok in which she was studying. Brought up physically disabled in relation to her B/L VL with 72% since her childhood, Vivinita Devi is a hard working and talented girl who loves playing chess very much. She began her early schooling at Khwai Junior high school at Uripok Khoisnam Leikai where her aunte Phurailatpam Sova devi woked as a teacher in the same school. There she studied upto class VIII and then shifted to girls' higher secondary school, Uripok.
She said that she did not get much attention or sympathy from her school teachers at first due to her disability nature. It was only when she was the first student with disability of the school who could pass matric that she could win sympathy and care from her school teachers, she said. Vivinita Devi could get letter marks in the subjects – Home science (88 marks) and Geograpgy (84 marks). A team of Relief centre for the welfare of differently abled persons met Shijagurumaum Vivinita Devi and her parents to express congratulation on her achievement.