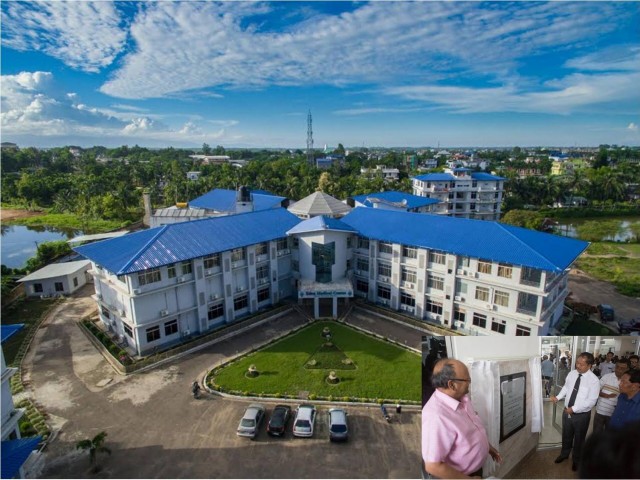 27th August, 2016: This day is an important landmark in the field of medical care in the state of Nagaland. The inaugural ceremonies of Eden Medical Centre (EMC) have been conducted by Shri. P. Longon, the Minister, Health & Family Welfare, Govt. of Nagaland who gracefully agreed to take the place of the honorable Chief Minister of Nagaland, Shri. T.R. Zeliang who could not attend due to unfortunate circumstances. Dr. (Prof.) G.K.Rath, Chief, B.R. Ambedkar Institute-Rotary Cancer Hospital, AIIMS, New Delhi, graced the occasion with his presence. It is a multi-specialty hospital set up to provide world class medical care to the people of Nagaland and beyond. It all started with the vision of a man as he traversed various cities across the country. It pained him to see the plight of the people of his home state seeking medical treatment in far off lands. Added to the burden of trying to locate the right doctors and hospitals was the inevitable cost of travel and boarding that had to be borne. The man decided that he had to do something to alleviate the plight of his people. Already a pioneer in various fields and one of the well known philanthropists of Naga society, Yashitsungba Ao is the 'force' behind the establishment of Eden Medical Centre. Today, as the Chairman, EMC, he sees the fruition of his long cherished dream of bringing the best of healthcare to the doorstep of the people of Nagaland. Quality and hassle-free healthcare has been made available within the comfort zone of our home, Nagaland.
Set within the tranquil precincts of a lush green campus, overlooking a large natural lake, one would mistake the grounds for a park. The centrepiece is an imposing three-storied architectural marvel, spread along four wings converging in an atrium set under a translucent dome. Beyond the magnificence of ground and aerial views, Eden Medical Centre is a 100-bedded facility, including Suites, cabins, and female and male general wards. It houses state-of-the-art facilities and services as highlighted below:
Department of Radiation Oncology: This department is headed by Dr. Lima Imchen (MBBS, MD Radiotherapy), Director and Consultant. EMC is the first private hospital in the Northeast region to be equipped with a world class IMRT (Intensity Modulated Radiotherapy) Linear Accelerator at par with any equivalent facility in India and abroad. The CT Simulator assists in precise treatment planning and accurate radiation delivery. Chemotherapy for all types of cancer is given with dedicated day care wards and utilizing Volumetric Pump Infusions. There are two Medical Physicists, one of whom is also an RSO (Radiation Safety Officer) who utilise the latest TPS (Treatment Planning System) technology for precise and accurate radiation delivery.
Department of Radiology and Imaging: The department has a 16 Slice CT Simulator, a digital X-Ray machine, a Mobile X-Ray machine, and the latest generation 4-D ultrasound machine, available round the clock for emergencies. Housing facilities have been constructed for an MRI (Magnetic Resonance Imaging) machine and steps are being taken for its early installation.
Casualty: This facility is manned 24/7 by a Casualty Medical Officer and highly trained paramedical team to deal with all kinds of emergency contingencies.
OPD and IPD: Fully functional OPD and IPD facilities are available; rooms are homely, comfortable and affordable.
Department of General Medicine: Three Medicine Consultants, namely Dr. Avoto Richa (MBBS, MD), Dr. Bendangtoshi S. Longkumer (MBBS, MD) and Dr. Along C.Y., (MBBS, DNB Medicine), man this department.  All endoscopic procedures are done by them. The department also focuses on Echo Basic Cardiac Care Diagnostics. Work is underway to develop a dialysis unit as well.
Department of Surgery: Run by Dr. Loli Athikho [(MBBS, MS (AIIMS) Surgery], all general surgeries are conducted, including latest laparoscopic technologies. Oncological surgical procedures are also conducted by our renowned visiting surgeons.
Department of Obstetrics & Gynaecology: Headed by Consultant Dr. Mhaleneinuo Modesta Belho (MBBS, MD, DNB), the department provides care related to pregnancy, childbirth and gynaecological diseases including oncology screening and prevention.
Anaesthesiology and Intensive Care Unit (ICU):The ICU is headed by Consultant Dr. Imonenla Aochenlar (MBBS, MD Anaesthesiology) with highly trained staff and latest medical equipment, including new generation ventilators, monitors, centralized oxygen supply lines, etc.
Dentistry (Oral and Maxillofacial surgery): The department is headed by Dr. Ankit Jain (BDS, MDS Oral and Maxillofacial Surgery) who performs all general dental procedures and specializes in maxillofacial and oral cancer procedures.
Department of Pathology: This department is headed by Dr. Moatoshi Aier (MBBS, MD Pathology). All routine biochemistry, hematology, microbiology, immunology, histopathology, cytology and clinical pathology tests are done in the laboratory. A fully automated dry chemistry analyser is available for the first time in Nagaland. Strict quality control is conducted daily to yield highly accurate results. Samples for specialised tests are collected here and sent either to Dr. Lalpath Labs Delhi or SRL Mumbai.
Department of Orthopedics: The newly established Department of Orthopedics is run by Dr. Imliyanger (MBBS, MD Orthopedics) who specializes in correction of deformities or functional impairments of the skeletal system, especially the extremities and the spine, and associated structures such as muscles and ligaments.
List of Consultants :-
Dr. Lima Imchen: Consultant, Department of Radiation Oncology;MBBS (Jipmer, Pondicherry), MD Radiotherapy (RIMS, Imphal)
Dr. Bendangtoshi S. Longkumer:Consultant, Department of Medicine; MBBS (Kakatiya Medical College, Warangal), MD General Medicine (Jipmer, Pondicherry)
AVITO RICHA: Consultant, Department of Medicine; MBBS (Jipmer, Pondicherry), MD General Medicine (RIMS, Imphal)
ALONG C.Y.: Consultant, Department of Medicine; MBBS (Gandhi Medical College, Bhopal), DNB Medicine (CHF, Oddanchatram)
IMONENLA AOCHENLAR: Consultant, Department of Anaesthesiology & Intensive Care; MBBS (GRMC, Gwalior), MD Anaesthesiology (LHMC, Delhi)
MOATOSHI AIER: Consultant, Department Of Pathology; MBBS (Jipmer, Pondicherry), MD Pathology (Jipmer, Pondicherry)
ATHIKHO LOLI NOBA: Consultant, Department of Surgery; MBBS (St. John's Medical College, Bangalore), MS General Surgery (AIIMS, Delhi)
MHALENEINUO MODESTA BELHO: Consultant, Department of Obstetrics & Gynaecology; MBBS (LHMC, Delhi), MD Obstetrics & Gynaecology (UCMS, DELHI), DNB Obstetrics & Gynaecology
ANKIT JAIN: Consultant, Department of Oral & Maxillofacial Surgery; BDS (TMDCRC, Moradabad), MDS Oral & Maxillofacial Surgery (TMDCRC, Moradabad)
IMLIYANGER : Consultant, Department of Orthopedics; MD (Dominican Republic), Orthopedics (Nagpur)
KEVISENUO SWU: Resident Medical Officer; MBBS (Dalian Medical College, P.R China)
JACOB H. PHOM: Resident Medical Officer; MBBS (GRMC, Gwalior)
PUTUINLA IMCHEN: Resident Medical Officer; MBBS (MLBMC, Jhansi)
BOTOVI CHISHI: Resident Medical Officer; MBBS (GMCH, Guwahati)
VISITING CONSULTANTS:
SIDHARTHA HAZARIKA:Designation : Visiting Consultant, Surgical Oncologist MBBS (GMC, Guwahati), MS General Surgery (AIIMS, Delhi), FACS (Fellow of American College of Surgeons)
RASHNA DASS HAZARIKA:Designation : Visiting Consultant, Pediatrician MBBS (GMC, Guwahati), Md Pediatrics (PGIMER, Chandigarh)
B. C. ROYDesignation : Visiting Consultant, ENT / Head & Neck Oncosurgeon MBBS (Assam Medical College, Silchar), MS Otorhinolaryngology (AIIMS, Delhi)
DEBABRATA BARMON: Designation : Visiting Consultant, Gynaecologic Oncology MBBS, MD Obstetrics & Gynaecology
BHARGAB JYOTI SAIKIA:Designation : Visiting Consultant, Medical Oncologist MBBS (Assam Medical College, Silchar), MD Medicine (Assam Medical College, Silchar)