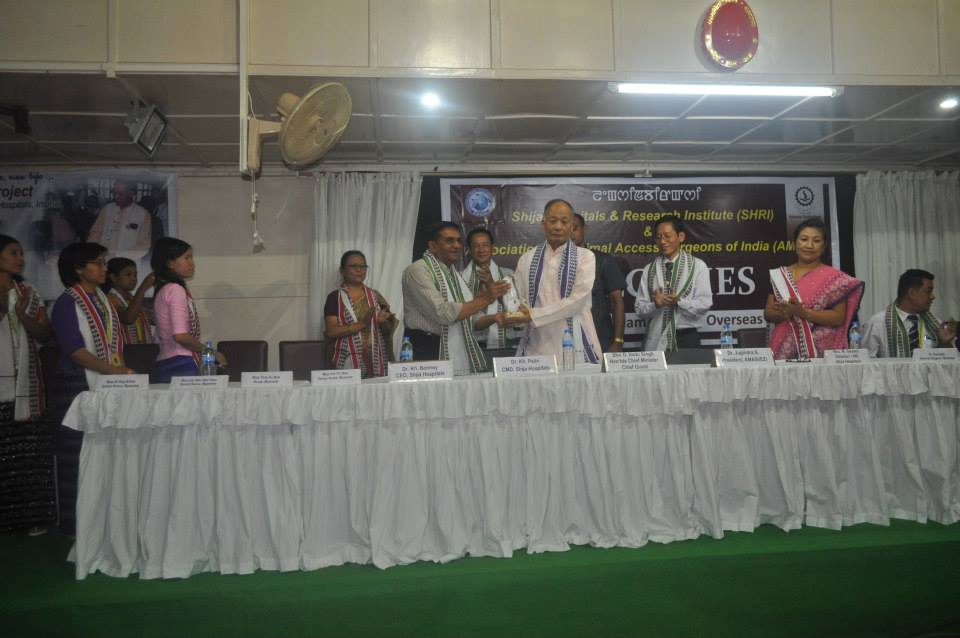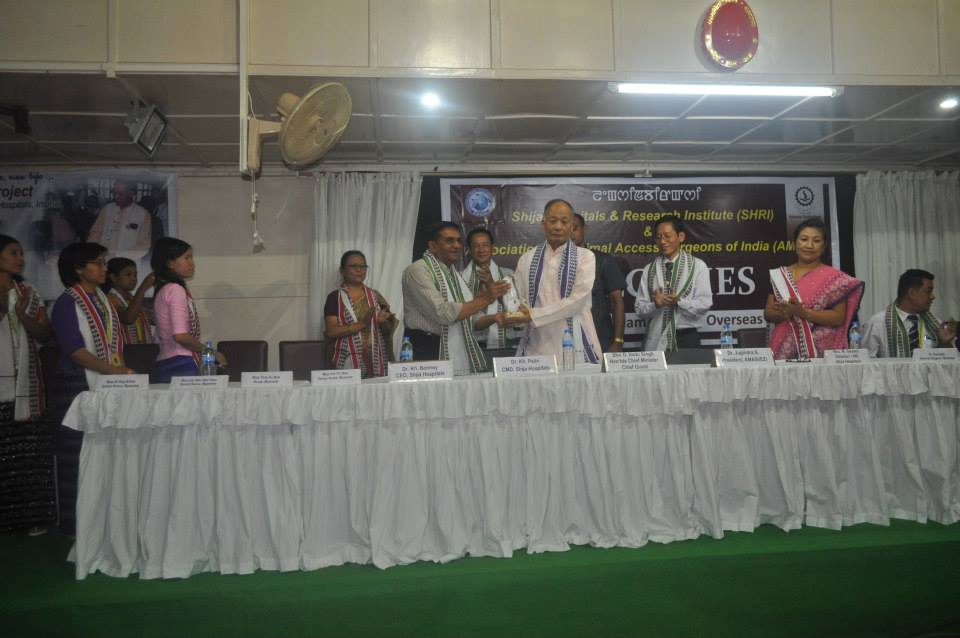 A Myanmar Medical Team of 8 members were received by Shri. Okram Ibobi, Hon'ble Chief Minister, Manipur, in a reception ceremony at Shija Hospitals campus, Langol, Manipur on 29th July 2014.
The team members are Dr.Nanda Lar and Dr. Zaw Min Htet, Surgeons; Daw Yin Yin Mya, Daw Zar Wah Wah Tun, Daw Thae Mon Aye, Daw Kay Khaing Myint, Daw Ei Kay Khaing, Daw Thae Su Moe, Senior Nurses from Monywa General Hospital, Sagaing Division, Myanmar.
Shija on earlier occasions had proposed to the Hon'ble Chief Minister of Sagaing to collaborate in training of Myanmar medical professionals to facilitate availability of advanced medical services in Myanmar by their national. Dr.Palin Kh, Chairman cum Managing Director, SHRI, in his key note address appreciated the efforts of Chief Minister of Sagaing and Indian Consulate General, Mandalay, for taking it forward and nominating two surgeons and six nurses to undergo three months training in Key hole surgery, Operation Theatre technology and Critical Care at Shija Hospitals. These facilities are not available in the division of Sagaing. The training is under Shija Overseas Training Program in which free accommodation and training will be provided by Shija. The Key hole surgery training is endorsed with scholarship by AMASI (Association of Minimal Access Surgeons of India) for all the trainees. He also brought to light that Shija is one of the leading centres in eastern India for key hole surgery. He lauded the efforts by Govt of Manipur regarding bus service from Imphal to Mandalay which was announced last month and at the same time requested to initiate VISA on arrival for Myanmar nationals arriving at Manipur on surface. Improvement in law and order situation of the state, Government and Private sector joining hands and overall development of the state will soon make Manipur a healthcare destination in South East Asia, said he. Shija always envisioned to pioneer in medical tourism in the region. This initiative is in alignment with the organization's vision. He is hopeful that the initiatives undertaken by Shija, including Shija's Mission Myanmar, will help in enhancing the relationship between India and Myanmar.
Dr.Jugindra S, Director, Medical Services of SHRI as well as President of AMASI East zone, extended a warm welcome to the Myanmar team and expressed his gratefulness in being able to represent Manipur, Shija and AMASI in receiving the team. He believes that this training will be instrumental in providing the most patient friendly technology to the people of Myanmar.
Dr.Nanda Lar, Surgeon from Myanmar, expressed his gratitude to Dr.Palin and Dr.Jugindra for organising this training. He also noted the similarities between Myanmar and Manipur in terms of language, customs and culture. On behalf of his Hon'ble CM of Sagaing he presented mementos to Hon'ble CM Manipur, Dr.Palin and Dr.Jugindra S.
Shri. Okram Ibobi, Hon'ble Chief Minister, Manipur, appreciated the efforts of Shija team and said that this will contribute towards a strong relationship and understanding between the two nations. In his speech, he compared the difference in the time taken and convenience in travel between Myanmar and Manipur as against that of Kolkatta or other metros in India. Government of Manipur is also striding towards providing services especially in health and education sector. He also informed the gathering of the other developmental activities taken up by the Govt in IT sector. 
Shija has been successful in developing the goodwill between the two nations through Mission Myanmar which is a triangular effort of Indian Consul General, Mandalay, Government of Myanmar and Shija Hospitals, Manipur
Three such Missions have been conducted since 2013.
Mission Myanmar Phase I , May 2013– Smile Train – one lakh cleft patients are sufferingsilently in the country of Myanmar. 103 procedures on 87 cleft patients performed successfully.

Mission Myanmar Phase II, December  2013 –  1.8 Millions cataract blindness in Myanmar.

179 Cataract Blindness Surgeries performed successful. The second mission was sponsored by Hon'ble CM of Manipur. 

Mission Myanmar Phase III, March 2014– 27 Smile Train and 32 Key Hole Surgery performed sponsored by AMASI Association of Minimal Access Surgeons of India)
The mission Myanmar has been appreciated by the Government of Myanmar and Sagaing and has really changed the brand image of Manipur, especially in health care sector.  Patients from Myanmar especially Sagaing prefer to come to Manipur to avail healthcare services. This is relatively less costly than Thailand, Singapore and other metros in India.
The Myanmar Medical team were provided VISA by the Indian Consulate General, Mandalay. They crossed the border on 22nd of July and were received by a team from Shija Hospitals led by Dr.Palin and escorted by Manipur Police from Moreh to Shija Hospitals Imphal. The training commenced from 23rd of July. Shija is hopeful that they will be able to replicate the facilities in their division.
(Santosh Shekhar)
AGM- Business Development