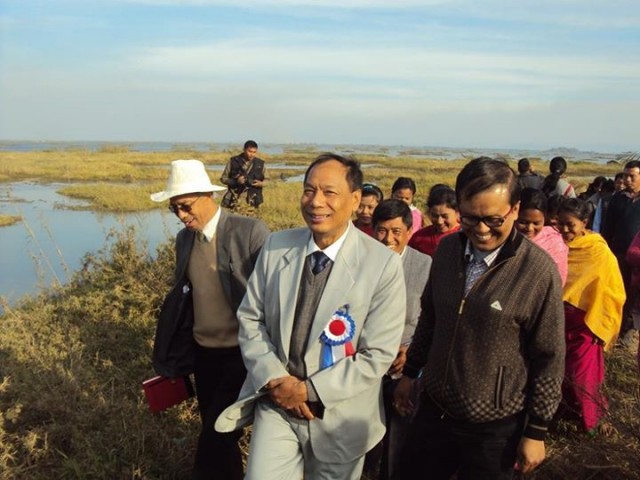 30 kilometers away from Imphal, Toupokpi Khunou is a small village at the bank of Loktak Lake. There are around 450 people living in the village and all of them are the displaced fisherman who uses to live in the Phumdis at one point of time.
There is no supply of drinking water in this area and no health centre. Except for one family all the families has open latrine and most of the people are prone to water borne diseases and illness due to no sanitation.
The area is a concentrated area of displaced fisherman. Taking notice of the need for intervention in the health sector Okram Ibomcha Director National Health Mission along with his officials conducted a one day Reproductive and Child Health Care free medical camp. Villagers attended the health camp and free medicines were provided.
Electoral powder, iron folic acid, vitamins, anti biotic and other medicines was provided. The health camp today is organized for pregnant mothers; common ailment affecting children, elderly people informed the Directors. He also express his willingness in opening up a sub centre and informed that Manipur has so far 421 sub centre and work is on to make it to 600 sub centres according to guidelines in due course of time.
The director has also informed the local leaders for hiring a room on rent where health checkups could be done by visiting doctors and nurses. He also announced the villagers that every week doctors from the nearest PHC which is Ningthoukhong or Bishenpur District hospital will visit the village and look after the sick people.
The director has also promised to supply little water storage syntax where the villagers can keep drinking water after purifying with bleaching powder. The step is taken up to prevent from water borne diseases. The director also assured that he will consult the sanitation department for proper latrine to prevent any diseases.
The villagers are hardworking fisherman who also works on their vegetable farms and it could be a model town expressed the director as he observes a vast paddy field covered with green vegetables which are a result of the laborious toil of the villagers.