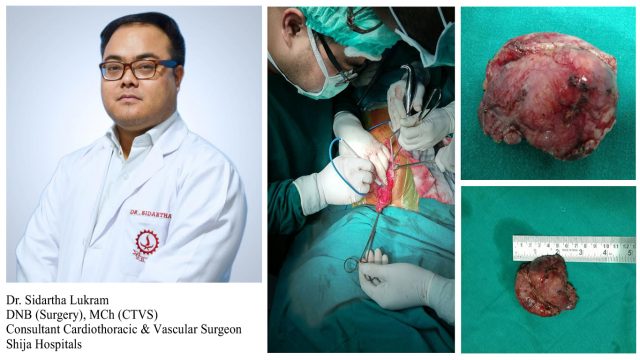 lmphal May 27: A rare case of thymic mass (anterior mediastinal tumour or tumor in the frontal chest cavity) was successfully removed from a young girl of 9 years old. A team of doctors led by Dr. Sidartha Lukram, Consultant Cardiothoracic & Vascular Surgeon, Shija Hospitals performed the surgery successfully.
Dr Sidartha mentioned that it was a rare case of thymic tumor in children, one of the largest of its kind ever reported in literature. lt was causing compression on the heart and lung causing breathing difficulty and chest pain.
The patient was operated on 2I't May'!7 and post operatively the complex surgical patient was managed with e'ase in the well equipped Paediatric lntensive Care Unit (PICU) of Shija Hospitals. The patient was discharged fit
from the hospital on 25th May'1,7.
For,Shija Hospitals & Research lnstitute
Takhellambam Premkumar
Dy. Manager – Business Development