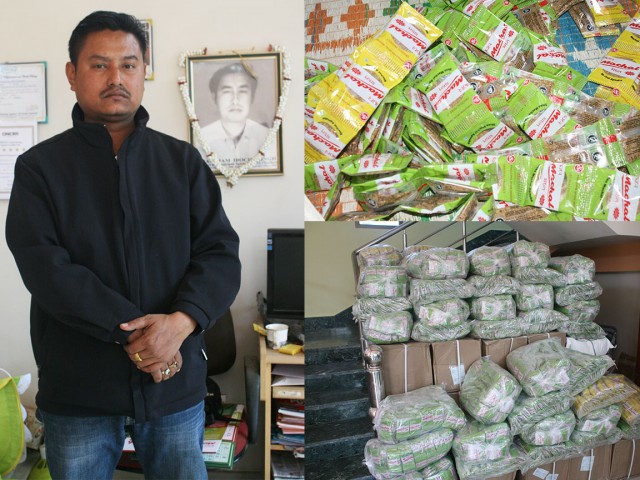 Blessed with the favourable agro-climatic conditions and rich agriculture resources, the Food Processing Industries sector is fast developing in Manipur. However, the state still depends on other states for essential commodities. Kangleipak spices Industry, which is a popular brand of spices in the state, has come as a boon for the jobless youths of the state.
Embracing family legacy
The industry based at Lalambung Makhong Takhellambam Leikai in Imphal west was launched in 1999. Thangjam Rakesh (42 yrs) is the Managing Director of the company, who inherited the business from his late father Thangjam Ibocha who was the brain behind the spices Industry set up in 1999. He used to help his father in managing the spices industry along with his family members. In 2000, the family suffered a setback because of sudden demise of his father due to BP stroke. His late father left with two choices- either to complete his PG studies or to take over and manage the spices industry which was the only livelihood for the family. Rakesh decided to leave his studies to carry on the unfinished dream of his father along with his brothers and sisters. It was a hard time for him to run the business. He, however, could succeed against all odds with support from the people.
His mother ran a local grocery shop and sold spices manually made by her. With the costumers' demand on the rise, his father bought a small grinder machine to expand the business and meet the demand, which ultimately led to introduction of Machal spice brand, he recalled.
Rakesh is the eldest son among five siblings of four sons and one daughter. He passed matriculation from Don Bosco Chingmeirong and graduation from Liberal college.
The company faced a hard initial stage
The unique feature of Kangleipak Spices Industry is its traditional spices products generally consumed by the people since long time back. The initial stage of development and functioning of the industry was compelled to face a very hard time both financially and marketing. It was huge task for the industry to compete with the spices brands of outside which already dominating the local market for years with good packaging system and marketing. Moreover, local customers too had a mix feeling about the quality of local products by that time and tend to consume the outside products more often.
Despite all this, the Industry dared to compete with outside brands with its spices brand "Machal"-Spices powder, turmeric powder, coriander powder, cumin powder, ginger, garlic paste. From 1999 to 2002, the company which focused mainly on marketing and product quality could occupy a small space in the local market. By the end of 2002, people of the state started to taste the flavor and quality of Machal spices. The year 2003 marked a new change for the company with introduction of new packaging system which played a big role in modernizing and increasing the production to meet the increasing customers' demand.
Changes and improvement
Introduction of traditional spices Machal Apouba possessing a unique taste of Manipuri culture in 2004 brought about some changes to the company's business venture.  Demand for Machal Apouba in local market raised rapidly day by day. Additional manpower and modern machineries were also installed so as to meet the increasing market demand. The company was compelled to extend its initial working hours from 8hrs to 13 hrs a day in three shifts to facilitate increase in processing and production. Still, the production was short of demand as processing and preparation of spices was carried out manually amidst inadequate power supply. In order to meet the market demand, new generator was installed which gave some stability to production.
Company's spice products
In 2007, Sha Machal Apouba, a non-vegetarian traditional spice was introduced which could dominate the market as 80% of the population was non-vegetarians. The modification of initial chilli powder to chilli apouba (granule) also facilitated in increasing the demand of the company's spices brands. In 2008, the first ever packaging machine of the company was installed for 5gms-20gms that gave a new era in the modernization of the company. The new packaging machine pouch which was more hygienic and attractive raised the costumers demand. As the company focus mainly on small pouch, there is a need to produce a variety of pouches according to market demand. So, by the end of 2008, Apuba Machal, Sha Machal, chilli Apouba was produced in 30gms and 125 gms which gave the customers a chance to choose according to their needs.
The Industry is manufacturing a wide array of spices including Chicken Masala paste made of using Ingredients like turmeric, coriander chili, cloves, black pepper, fenugreek, ginger, ngang, cardamom, cinnamon, garlic, edible oil and iodized salt; Garam Masala; Vegetable Masala; chilli powder; Ginger powder; Jeera powder; Turmeric powder; Coriander powder; fish Masala; Meat Masala; Kitchen queen; Mustard powder; Coarse Mix spices  made of using ingredients – cumin seed, coriander seed, black pepper, Fenugreek and blended spices.
Marketing
Apart from the local market, the company's product began to spread outside Manipur mainly Guwahati, Dimapur, Kolkata, Delhi and Bangalore as Manipuris residing in these places, particularly the students and workers demanded for the local products. In 2009, two more packaging and three pulverizer machines were installed to meet the demand of the people which also marked the introduction of Marketing Agent (4 nos) which held distribution of products to every nook and corner of the state. In 2010, Besan (gram flour) and chana besan powder was introduced as a trial in 200 gms and 150 gms packages. Besan powder was a success but chana Besan powder could not precede for long as majority of the people in the state goes for the cheaper Besan powder. So chana Besan was delivered only on order.
Regarding his strategy to compete with other popular spice brands, he said that his factory manages to provide the best quality spices product with good packaging.
Employment
First ISO certified company in spices, Kangleipak spices Industry became the first company in the state to produce traditional spices and Besan powder on laminated polyfilm packaging system. Presently, around 40 workers including three supervisors, 12 skill workers, 17 semi-skill workers and nine machine supervisors including two electricians are managing the processing and packaging of the industry.
In recognition of his success venture, All Manipur Entrepreneur Association conferred him AMEA outstanding award for best marketing in 2012,
Message
Appealing to the younger generation, he said," success comes only after hard effort and dedication. We cannot achieve success without patience and determination. Manipuris are lack of work culture and everyone is eying for earning easy money. Such trend will never bring development in Manipur.  Our educated youths should look out for alternative option for earning instead of running from pillar to post for white collar job".
[ecwid widgets="productbrowser search minicart" categories_per_row="3″ grid="10,3″ list="60″ table="60″ default_category_id="21230846″ category_view="grid" search_view="list" minicart_layout="MiniAttachToProductBrowser"]