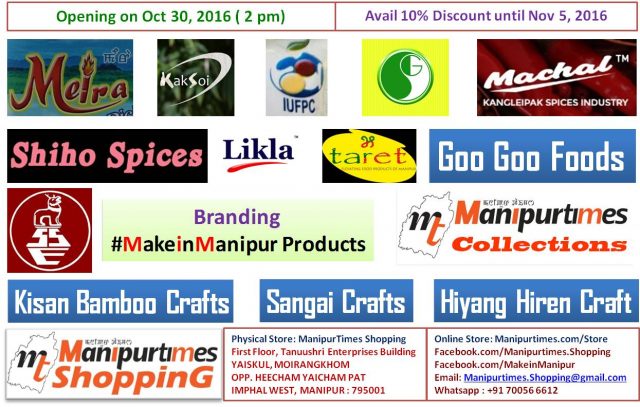 Manipur Times Opening its Shopping Hub on Oct 30, 2016 at 2 pm IST
With a motto of "Branding #MakeinManipur Products" and mission to promote, create awarness and branding of the local products of artisans, startup entrepreneurs and established entrepreneurs alike, Manipur Times is all set to open to public its shopping hub 'Manipur Times Shopping' at Yaiskul Moirangkhom opposite to Hicham Yaicham Pat on October 30 at 2 pm.
Manipurtimes shopping hub will provide both offline and online shopping experiences for general public. In first phase, only physical store will be opened up with limited number of firms/artisans showcasing their respective #MakeinManipur Products.
In the second phase which is expected to be ready few weeks later, online shopping will be added with target customers of Imphal East and West districts and major cities of India where Manipuri people are living. More #MakeinManipur will be added in the MT shopping product list. The delivery service in Manipur of the online shopping will be provided by recently started startup venture – Hummingbird with a motto of "Delivering lasting Smiles". Delivery services for major cities of India will also be available with collaboration with EMS and other courier services.
Online shopping will be available at Manipurtimes.com/Store
Facebook.com/Manipurtimes.Shopping and Facebook.com/MakeinManipur
Email: [email protected]  Whatsapp : +91 70056 6612
With third phase of the initiative, Manipurtimes Shopping hub will cover almost all Make in Manipur Products where varieties of state produced/processed food items, handicrafts, handlooms and electronics items. The products would be sourced directly from artisans and manufacturers and will be sold under one roof at a reasonable/MRP price. Delivery services of the online purchase will be expanded to more districts of Manipur with strong collaboration and partnership of Impact TV and Hummingbird.
Taking the role of a media, Manipur times, since its inception in 2013, has been sharing stories on successful entrepreneurs, local handloom and handicraft artisans and others with the mission to promote them, whereby inspiring youngsters toward self realization and self sustainable future of Manipur.
Please feel free to give feedback and suggestions by directly writing to [email protected]