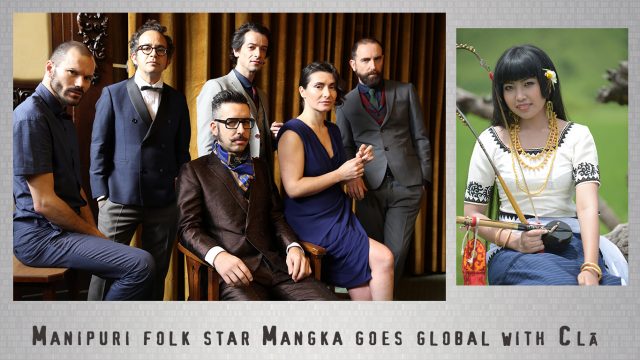 27th April 2017: Manipuri folk musician Mangka's new single ' Nura Pakhang' (Eu E Tu), a collaborative effort with Portugal's iconic pop band Clã will be release worldwide on 28th April 2017.
The track will be part of an album called T(H)REE – A MUSICAL JOURNEY FROM PORTUGAL TO ASIA. T(H)REE is a project that has been joining Portuguese and Asian musicians over the last decade in unique collaborations, with the aim of creating new soundscapes, exploring the local cultures, and promoting the best music made in the different styles.  The styles go from Folk to rock, pop to electronica and spoken word to experimental. Among the Portuguese participants are iconic names such as Clã, Peixe, Amélia Muge and Old Jerusalem, and from Asia names like Mangka (India), Indus Creed (India), Dinesh Subasinghe (Sri Lanka), Mohichehra (Uzbekistan), Magic of Nomads (Kazakhstan), Mohammed Haddad (Bahrain) and Sherine Tohamy (U.A.E).
A box that includes three discs will be released on April 28th 2017 and is coordinated by the producer David Valentim. It is an Omnichord Records edition with production partially supported by Fundação Oriente. All of the sales of this release will be donated to "Make a Wish " Foundation.
The song 'nura pakhang' (eu e tu) has been written and composed by Mangangsana, the artistic director of Laihui, a folk music ensemble based in Imphal. According to Mangangsana, any sort of collaboration should bring cultural understanding between two different communities. The beauty of the collaboration is that the Portuguese band and the Indian artist never met. They compose and record tracks in their own places/studios and the producer finally mix everything and a song is made. When the collaboration was finalized, Mangangsana presented three tracks to the Portuguese producer David Valentim who chose the song 'nura pakhang'.
Clã also wrote their own lyrics and blended into the Manipuri folk based song. Initially Mangangsana was a little worried how Manipuri folk and traditional music will blend with a pop/rock band like Clã. All communications were done through emails and the final song was created.
And according to David, the result is fantastic. The track has two different versions; a full length version (6+ minutes) and the radio edit version (4.29 minutes) which is being played on Antena 3, one of the biggest radio channel in Portugal.
It might be noted that Mangka is the first Indian to perform at The ABU Radio Song Festival. She was selected to represent India at the second edition of the biennial Asia-Pacific Broadcasting Union(ABU) Radio Song Festival which took place in Colombo in 2014. In 2015, her debut album 'chingda satpi' was released which is distributed worldwide by Times Music. Other than performing all over the country with Laihui- her music group, she has also collaborated with musicians from Japan, Hawaii and New York.
Link to the music : https://www.youtube.com/watch?v=zxJitlTUX4Q