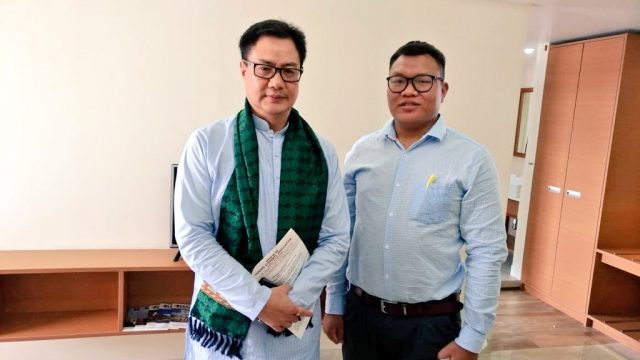 MEMORANDUM SUBMITTED TO SHRI KIREN RIJIJU
Hon'ble Minister of State (Home), Government of India 
FOR EARLY FORENSIC REPORT OF A 21-YEAR OLD PRIVATE TEACHER (L) MISS NENGKHOKIM ALIAS CICILIA/SHILA OF MOLTINCHAN VILLAGE, CHANDEL DISTRICT, MANIPUR, WHO WAS GANG-RAPED AND MURDERED ON 5TH MAY, 2017. 
By the Thadou Students' Association, General Headquarters (TSA-GHQ) 
On Saturday, the 30th June, 2018 
Hon'ble Sir, 
Warmest greeting from the Thadou Students' Association (TSA)! 
With due respect and honour, I, the undersigned, have the honour to bring to your kind attention that on the early morning of 5th May, 2017, Miss Nengkhokim Haokip alias Cicilia/Shila, a 21-year-old private school teacher from New Molbem village in Chandel district, near Sugnu, was allegedly gruesomely gang-raped, tortured and murdered on the intervening night of May 4. 
A 28-year-old man, Kaikholen Tuboi, was also found brutally murdered at a spot about half a kilometre apart from where Shila's dead body was found. Shila's dead body was buried hurriedly on May 6, and that of Kaikholen on May 7, without proper investigation and justice. 
A Memorandum of Understanding (MoU) was signed on May 6 by representatives from the State government, led by the local MLA of Chandel, who is also a cabinet minister, and representatives of the Joint Action Committee (JAC) against the murder, including leaders of the KSO and KWHR. 
It has emerged that though Shila's family have been verbally informed of the post mortem report, a copy of the report was not handed to them despite requesting for it. When a team of Thadou Students' Association (TSA), who have now taken up the case for justice, met with Superintendent of Police, Kakching, and investigating officers concerned on December 11, they were bluntly told that they cannot be handed the post mortem report and that forensic reports are still unavailable. 
Following an understanding with the Hon'ble Chief Minister of Manipur on 15th January, 2018, a Special Investigation Team (SIT) was constituted under the supervision of Addl DGP (L&O) along with three (3) senior's officers with an obligation that the investigation would be completed within three months. 
In fact, even after six months of the understanding reached between Hon'ble Chief Minister and the TSA, and even after 1 year after the incident, we are still waiting for the forensic report which is extremely required for the final charge sheet to be submitted to the Court by the Police. 
Given the gravity of brutality and atrocity, the case of the alleged gang-rape and murder of Shila deserves to be treated as seriously as the December 2012 Delhi gang-rape case in which justice has been delivered by awarding death penalty to the rapists of the 23-year-old Nirbhaya, nickname for Jyoti Singh, who succumbed to her injuries thirteen days after the incident. 
While there are many speculations, confusions and mystery surrounding the case and lack of transparency with the authority, there are apprehensions of potential public outrage if justice in the murder case continues to be delayed. Based on the narratives of those who witnessed the dead body of Shila, it is highly suspected that Shila was brutally gang-raped and tortured before being murdered in cold blood. But, could forensic evidence have been buried along with the dead bodies of the two victims of crime? 
To take the investigation regarding the killing of Miss Nengkhokim and K. Tuboi to its logical conclusion and give an exemplary punishment to the culprit, we earnestly request your kind intervention so that the Forensic Report of (L) Nengkhokim Haokip, which is repeatedly pending with the Central Forensic Science Laboratory, Kolkata, be completed and delivered for further necessary investigation at the earliest possible time. 
We shall ever remain grateful to you for your act of leadership with a sense of urgency. 
(Michael Lamjathang Haokip)
Secretary General
Thadou Students' Association