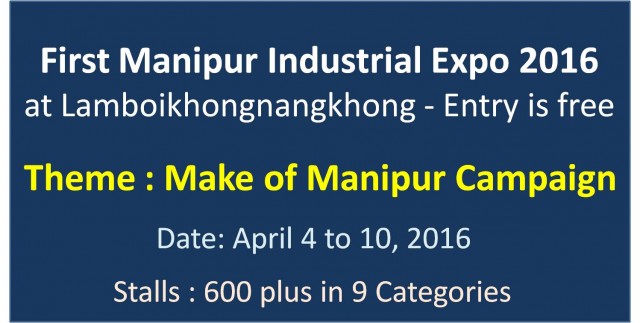 Under the theme of "Make of Manipur Campaign", first Manipur Industrial Expo 2016 will be conducted from April 4 to 10, 2016 at Lamboikhongnangkhong, Imphal West., Manipur
A total of over 600 plus stalls will exhibited during the expo by weavers, artisans, entrepreneurs, small and medium enterprises, society, NGOs, Associations, service providers, hotel and industries.  Stalls in the following category will be exhibited: 1) Handloom Products, 2) Handicraft products, 3) Small and Medium Enterprises products, 4) Package Food products, 5) Food court for various industrial food items, 6) Promotional programs like social programme, automobiles, Army etc, 7) Service provider like healthcare, IT, Tourism, Tour Operators etc, 8) Industrial Tools, appliances, equipment and mechanized machines and 9) Cocoon Mela of Sericulture Department.
Entry is free for visitors of the Expo.