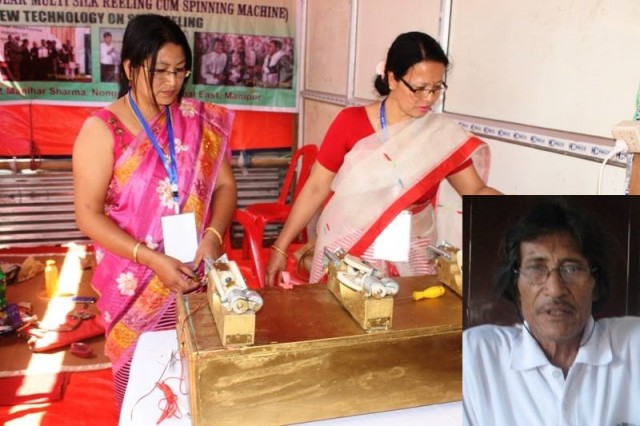 Solar Muga reeling machine is being displayed at stall no L-416 of Manipur Industrial Expo 2016.
Multi-Muga Reeling cum Spinning Machine developed by local innovator Manoharmayum Manihar Sharma (69), hailing from Nongbeibung, Imphal has come as a boon to the sericulture sector in Manipur, particularly, the women eking out a living with silk reeling job. The device is a portable user friendly machine which can simultaneously carry out the reeling as well as spinning for different varieties of silk like Muberry, Muga, Eri and Tasar without any arduous human effect.
Slightly bigger than a harmonium (musical instrument), the machine has five reeling heads with an electric switch each. This enables one or more reeling heads to operate even if the switch of remaining heads is off. The reeling is automated once the filaments from the cocoons are fed to the reeling end. The machine speed can also be regulated with the help of reeling pipes attached along the thread lines. The reeling speed adjustment mechanism ensures silk production of desired quality.
Manihar shrma is a mechanic and a serial innovator who has come up with a number of useful innovations like handy incense stick making machine, an innovative drier, automatic pump operator for overhead tanks. The new innovative reeling gadget has been acknowledged by National Innovation Foundation India by conferring national grassroots technological innovations & traditional knowledge award 2015 to Manihar Sharma recently for his innovative pursuits.
The device can be operated by either solar energy or electricity. Solar energy makes its environment friendly and appropriate for rural inferiors where electricity is not available or is erratic. It performs effectively even in cloudy weather and a night through a DC battery, the use of which reduces the chances of accidents considerably. The machine can operate 24 hours thereby increasing productivity and reducing manpower.
Compared to the existing local or traditional methods of reeling this machine produces superior quality of threads in less time and with reduced labor. Despite his elderly age, Manihar is such an innovator who does not let his mind and hands rest until he has developed every part of different innovative machines to a finish to his choice. His mind is continuously buzzing with new ideas and his eyes are always on the lookout for problems which can engage his mind with.