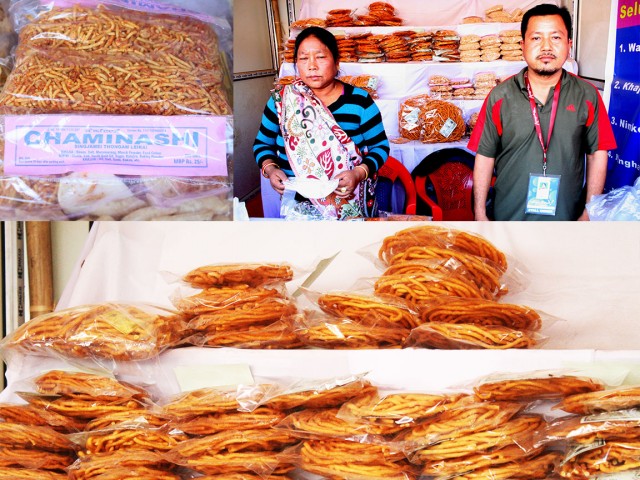 Watin is a simple noodle like food item prepared with Besan (chick pea flour) and palm oil (Ruchigon). The chick pea flour is mixed with water, salt and sodium bicarbonate to make it into a paste. Then it is deep-fried on a frying pan in palm oil. Nowadays Watin has become a favourite food in Manipur.
Chaminnashi Food Processing Centre, Singjamei Thongam Leikai is amongthe pioneer food processing industries which manufacture Watin. Laishram Satyajit, proprietor of Chaminnashi Food Processing Centre,Singjamei Thongam Leikai said that his industry is successfully producing two types of Watin – Besan Watin and Chak-hao Watin.
Chak-hao is a type of rice found in Manipur. Apart from Watin, his industry manufactures Bhujiya, Bhujiya Mixture, Khajur, ChanaTangkhai, Chaminnashi Heikru, Kangtak, Badam, groundnut and Moong dal.
He said that his products received good demand from customers. He has been able to provide employment to around 30 people. At present, six workers are preparing Watin and other food items in his factory, he said.
Watin packets produced by his firm are made available to the market on daily basis through its distributors. The distributors come to his firm and collect the Watin packets for selling to local shops ofImphal East, Imphal West, Thoubal and Bishnupur and hill districts.
Claiming that his factory has been able to sell food items worth Rs15, 000 – Rs 20,000 per day, he said that he tries to deliver the bestquality products to his customers.