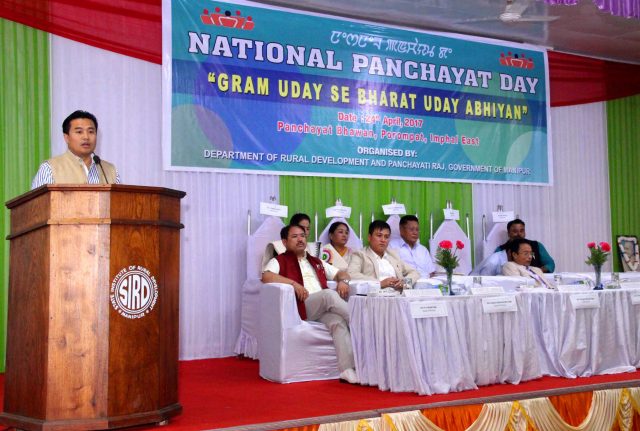 Imphal, April 24, 2017 (DIPR):Rural Development & Panchayati Raj Minister Shri Thongam Biswajit Singh said efforts are on to complete the under-construction Zilla Parishad offices at Porompat within 65 days from today. The Minister was addressing the National Panchayat Day observation at Panchayat Bhawan, Porompat this morning.
The Minister also expressed the need to upgrade the Rural Development & Panchayati Raj department to a major department.
He further stated that issuance of birth certificates will soon be made possible through electronic modes. He also said that the government is targeting construction of 10,000 houses under the Housing for All Scheme, which will be launched soon.
The Minister also delved on the need to remove poverty from the land. He said we can bring development only if we work together. If an elected representative acts against the public, it will only lead to the public losing trust on politicians, he continued.
Stressing that Prime Minister Shri Narendra Modi has already launched more than 126 schemes for the welfare of the people, the Minister asked the steps undertaken by the pradhans and zila parishads to reach out these welfare schemes to the people.
The observation was also attended by RD & PR Parliamentary Secretary Shri Heikham Dingo Singh, Health & Family Welfare Parliamentary Secretary Shri Soibam Subhaschandra Singh, MAHUD Parliamentary Secretary Shri N Indrajit Singh, RD & PR Secretary Shri Sumant Singh among others.
Meanwhile, as part of the function, the three Gram Panchayats of Keirao, Kyamgei and Kanglatombi were awarded under the Gram Uday Se Bharat Uday Abhiyan. (DIPR)