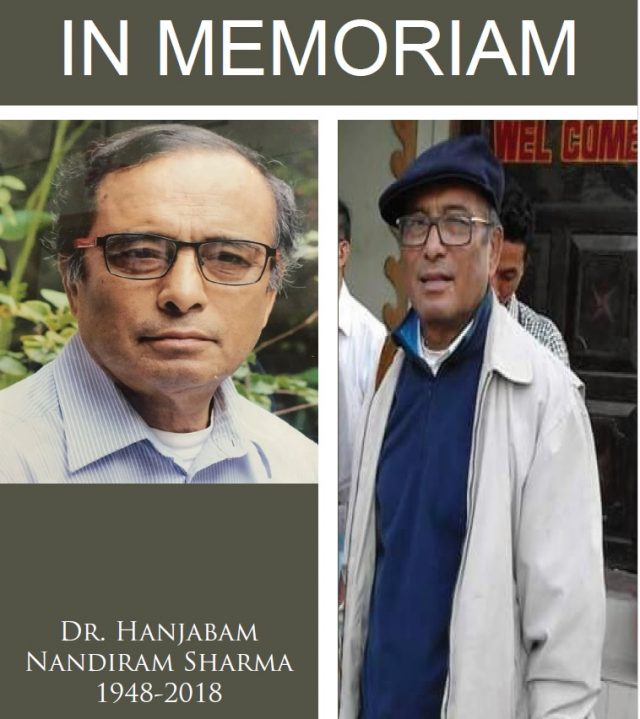 neScholar magazine, a flagship brand of Ne Brothers Entertainments Private Limited, paid homage to Dr. Hanjabam Nandiram Sharma with a small booklet titled, 'In Memoriam'.
Dr. Hanjabam Nandiram Sharma, popularly known as Eigya Nandiram or Oja Nandiram amongst his acquaintances, left for the heavenly abode on 11th September, 2018. The booklet was distributed for free amongst attendees, who had come to pay obeisance on his shraddha ceremony, held on 24th September, 2018.
'In Memoriam' is a humble offering to Oja Nandiram from the team of neScholar magazine; a tribute for being the wonderful person that he was – an amazing professor, and an aficionadas of nature. It is an attempt to imprint some of his glorious moments, though no words will suffice to describe his persona.
'In Memoriam' carries a condolence message on behalf of the whole team of neScholar magazine, an eulogy by Dr. RK Nimai, who beautifully, in brief, chronicled the life journey of Oja Nandiram – his passion, career, contributions, and his achievements.
A few excerpts from the eulogy –
"He was "Expert" in the "Manipur Parikrama" an expedition organised by the Assam Rifles from March 5th to April 14th, 1987, an expedition along the boundary of Manipur by foot for 40 days. An intrepid traveller, he was associated with the Dzuko Expedition in 1997, Shiroy Expedition in 2001 both induced alpine meadow, Vaunuhro Expedition in 2001, to explore the source of the Barak River."
"One of the pioneering plant hunters of Manipur, his knowledge about the flora of Manipur was awe inspiring. He was the final arbiter for identification of any plants of Manipur. Many plants he could identify just by seeing the leaf. His enthusiasm was so engrossing that almost all those who came in contact with him became plant hunters and lovers."
The booklet also features some of his pictorial moments, when he was on the field, travelling, spearheading expeditions, and doing what he did best.
With this booklet, neScholar also expressed heartfelt gratitude to Oja Nandiram for his immense support in shaping up the neScholar magazine. We cherished his association with the magazine since the first issue in August, 2014. Through his knowledge, dedication, commitment and courage, he had left indelible footprints for others to follow.
May his soul rest in eternal peace!
Issued By:
neScholar Magazine,
NE Brothers Entertainments Pvt. Ltd.
Imphal