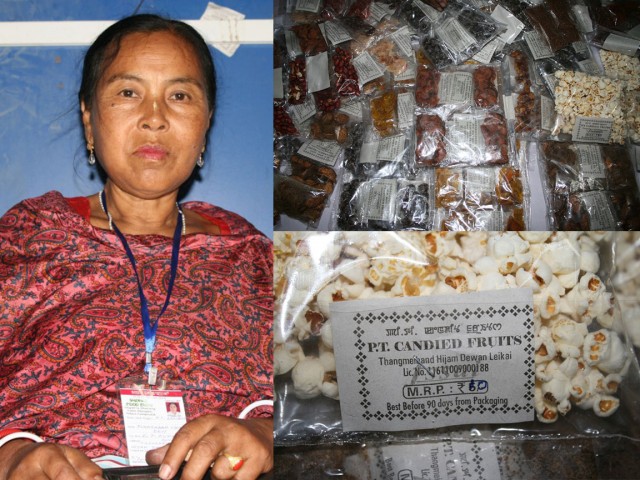 At her tiny house located in Thangmeiband in Imphal, the 60-year-old Pukhrambam Tombi is busy preparing varied fruit candies and pickles made of the diverse seasonal fruits and vegetables. She took up candy and pickle making in 2011. The variety of fruit candy and pickles prepared under the brand name of "PT Candy Fruit" are produced with the locally available fruits like mango, pineapple, gooseberries, and tamarind etc. The firm has distinctively transformed the luscious seasonal fruits and vegetables of the state into a new zest of taste in the form of pickles, fruit candies.
Onset of her entrepreneurship journey
A mother of three sons, Pukhrambam Tombi Devi, wife of Pukhrambam Birkumar of Thangmeiband Hijam Dewan Leikai said that she initially managed to supplement the family income as a handloom weaver, sometimes, engaging herself in making decorative flowers. With the income earned from the job was not sufficient enough to meet the family needs, she was on the lookout for alternative livelihood option. Later on she took up the venture of candy making with which she can now earn a good income for her family.
Once, she joined a monthlong food processing training under Economic development Programme of District Industry Centre and MSME training. She learnt various techniques of extracting juice from fruits, storing and preservation of fruits and vegetables.
"The training was very helpful to me. After joining the training, I learnt all the technical knowhow and inputs as how to start a food processing industry. With only Rs 500, I initiated the business by procuring fresh fruits from the local market to prepare candies. I used to present the finished pickle products prepared by myself without any modern technical knowhow on food processing to my friends and family members to give a try out to it. I was so happy when they gave me good feedback about my work,
Products and Market
PT Candy Fruit deals in producing varieties of packaged food items from locally available fruits and vegetables in the form of salty, candy and pickles. Her products include Candy of gooseberries, mango,  pineapple, heining, plum, tamarind, olive and wild apple, salty items of gooseberry, heibi, varnish fruit, lemon, mango, wild apple, pickles of bamboo shoot, fish, garlic, instant fermented fish (ngari), lemon, mango, mix vegetables.
The products of PT Candy Fruits have started to hit the local market and presently the products are available at many local retail shops in Imphal and others. The products have even reached to other cities like Guwahati, Bangalore, Kolkata, Delhi and others as Manipuris residing outside state demand for her products. She constantly receives demand from Manipuris living outside for study and work.
She has participated in many food festivals, exhibitions including Manipur Chinjak festival, Manipur Sangai festival, Imphal Food Expo, and others during which she could promote her brand apart from earning a good profit.
Empowering the marginalized woman
Tombi is such an entrepreneur who wants to create more employment opportunities for the marginalized womenfolk of the state. She wants to empower the woman section. She firmly believes that women can be empowered only when they are financially sound. Her candy brand is a symbol of women empowerment and enlightenment. Her farm has been a source of earning for some other destitute poor women, like widows and many other marginalized local women folk. They come to her house and together prepare varied products of fruit candy and pickles.
"Without the moral and physical support of my husband and other family members, I cannot succeed in the venture. Support from family and husband is also very important factor in running the business successfully", she said.
Challenges in the venture
She said that limited opportunity to avail bigger financial support, irregular power supply, general strikes, blockades and price fluctuation are some of the challenges she is facing. She said that till now she didn't approach to any public sector banks for funding as it requires many time consuming security documents. She, however, took a loan from a microfinance private financial institute to start the business.
Apart from handloom, food processing and preservation has also been a viable option for women to earn a livelihood. A woman can take the business without huge investment. No doubt, Tombi has been able to earn a good income from the job with costumers' demand on the rise.
Fresh fruits, the raw material for preparing candy and pickle products are mainly collected from whole sellers in Imphal. Tribal women from hill areas also bring fresh fruits to supply to her firm. She procures Lemon from Kachai village in Ukhrul district while Gooseberry from Senapati district.
Message
"With many candy and pickle brands mushrooming up in the state, different brands are engaged in a neck to neck competition in such a limited market scope in the state. To join the competition, my farm is compelled to compete with the rival brands with quality products so as to attract the costumers' choice. We do not compromise our product with quality," she said.
Normally, people of the state have a tendency of consuming various processed food items imported from Moreh and others while sidelining local products. Our people need to encourage the local products so as to promote the business of the local entrepreneurs. Extending support to local entrepreneurs will improve the economic condition of the fruit farmers, apart from contributing to state economy and generating more employment opportunities in the state facing with severe unemployment problem, observed she.
[ecwid widgets="productbrowser search minicart" categories_per_row="3″ grid="10,3″ list="60″ table="60″ default_category_id="21294227″ category_view="grid" search_view="list" minicart_layout="MiniAttachToProductBrowser"]