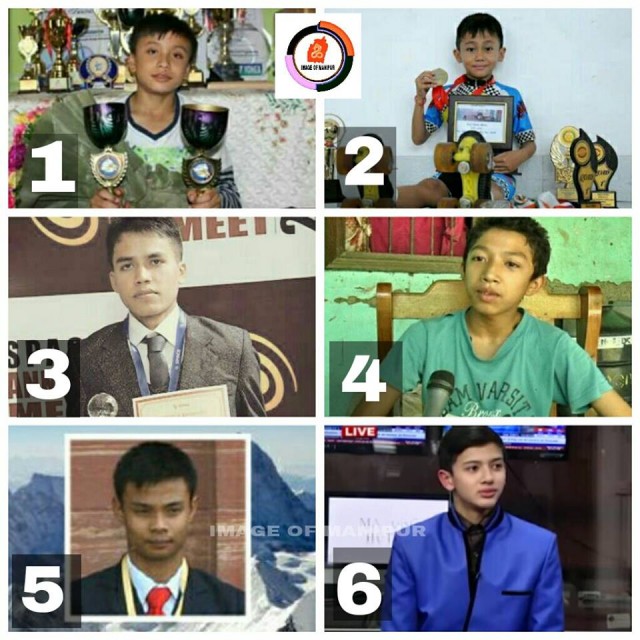 1) Meiraba Luwang, the Indian Rank No.1 badminton player from Manipur (for under 13-category), who recently took the championship, one at International level tournament that was held at Denmark and another at National level tournament that was held at Agra.
2) Tiluck Keisham, 7 years old boy creates a world record on December 20, 2015 in the "Farthest Distance Limbo Skating Under Bars"
He covered 116 meters as against the previous record of 50 metres in 31.87 seconds with cones and bars under the bars which were set at the height of 28 cm from ground level against the required 35 cm and the gap between the bars was kept to 1.0meter. He covered 144.7 meters without cones and bars in 56.01 seconds in a single run only.
3) Ronaldo Laishram, who discovered a unknown asteroid, which is set to be placed in the global minor body catalogue maintained by the international Astronomical Union in Paris when it is provisional. The asteroid is now categorized as Main Belt object MAUR397. Ronaldo Laishram was felicitated by Dr. APJ Abdul Kalam for his achievement. He is also awarded by Dr. AS Kiran Kumar, Chairman of India Space Research Organisation and provided him a chance to explore the technology and resource in ISRO.
4) Konkham Lamjingnganba, 14-years-old boy from Manipur who has been selected to attend the 70th United Nations General Assembly (UNGA) session. He is the lone representative from the entire northeastern region along with nine others from the rest of the country to speak at UNGA.
5) Nameirakpam Chingkheinganba, the youngest Indian from the North East to have scaled Mt. Everest.
He summited Mt. Everest on 18th May 2013 at 5.15 AM (IST) as part of the 1st North East India top of the World Mt. Everest Expedition 2013.
6) Lukanand Kshetrimayum, 13 years old boy, is the Youngest Filmmaker of Manipur who started making documentary films teleplays at a very young age.