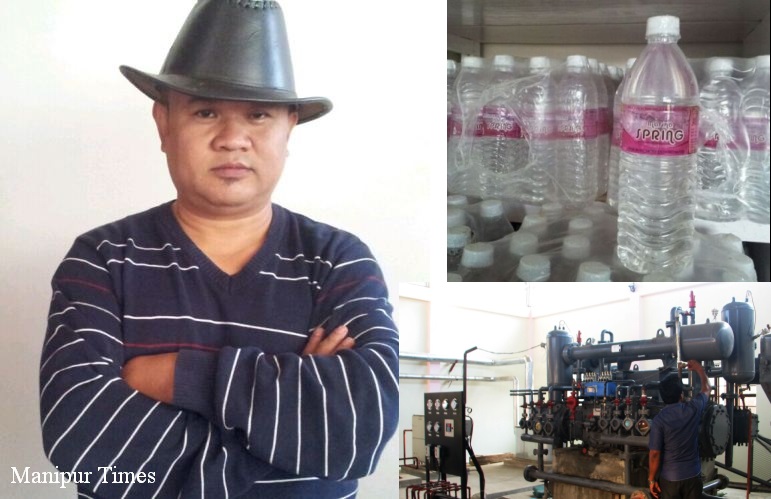 In Collaboration with FindingTheVoices.com
"Once I bought a pair of shoes to attend college. I wore the same shoe for quite long time because of two reasons – firstly, it was my heart's best choice, and secondly, I could not afford to have two pairs of shoes at a time. In fact, I had to wear it till it was completely torn. On rainy days, I could not join my friends to have sporting fun at college ground with the fear that water could be sipped in my shoe through its torn sole."
Khagemba Sanabam, Proprietor of Reliable Hydro-tech, shared his journey to success as an entrepreneur with Manipur Times. His business was simple like any other entrepreneur until recent times. He manufactures packaged drinking water, under the brand name Marina Spring.  
However, taking a giant leave, Khagemba has made an encouraging product diversification recently. For the first time in Manipur, his firm has come forward to start production of Oxygen gas for clinical and industrial purposes. When his company starts production in full swing, Manipur will no more rely on other States for Oxygen. 
The firm, which has around 30 employees, is presently located at Joypur Khunou of Bishnupur district, 23 km from Imphal, along Tiddim Road.
Khagemba, a promising entrepreneur of the state who always dreams to provide jobs to more than ten thousand youths of the state has recently started manufacturing Oxygen, an essential item for patients in the hospitals for emergency cases, as a part of his another venture besides manufacturing packaged drinking water under the brand name Marina Spring. 
His new venture of manufacturing Oxygen will solve the shortage of Oxygen in the hospitals of Manipur for emergency cases. Oxygen which is an essential life saving item is mostly imported from other states as Manipur does not have any Oxygen manufacturing plant. When the national highways are blocked during economic blockade or bandh, the state faces shortage of Oxygen in the hospitals thereby leading to death of many patients. Khagemba's new venture will supplement the oxygen requirements in the hospitals of Manipur. 
"Some years back, I chanced to read a news report regarding the death of a patient because of shortage of oxygen in a hospital. It was during the prolonged 52 days economic blockade on the national highways of Manipur. The said news shocked me. I thought such dead case would not happen if the state had its own oxygen manufacturing plant. Since then, installation of an oxygen manufacturing plant in the state has been one of my visions of life. The oxygen plant which has started commissioning now is not only for making profit but also to save the lives of many bedridden patients", Khagemba told Manipur Times. 
Presently, the Oxygen cylinders for the hospitals and industrial purposes are purchased from other states at the rate of Rs. 1000 to Rs 1200 per cylinder. His firm plans to sell it at a cheaper rate of Rs. 700 per cylinder.
40 years old Khagemba Sanabam s/o late Indramani Sanabam hailing from Singjamei Waikhom Leikai started his business with an initial investment of Rs. 20,000 financed by his mother.
Khagemba Sanabam passed matriculation in the year 1990 and completed his Class XII from Johnstone Higher Secondary School, Imphal. He passed BA in English and Philosophy from DM College of Arts Imphal in 1997. His father worked as an employee in the Forest Department but he left the job. 
Financial constraint in the family disturbed his further studies. His dream of becoming a lawyer was hampered by financial constraints in the family. To support his family and meet his personal needs, he started poultry farming at his home at the age of 21 years. He continued learning by earning. He reared rabbits for about 6 months and earned about Rs. 30,000 to Rs 35,000. Sometimes, he dealt with handloom products too and went to Jamshedpur, Delhi for handloom exhibitions.
He said that he set up his firm with a loan of Rs. 2.5 crore from United Bank of India. 
"We often talk of setting up industries in Manipur. Setting up an industry is easy in verbal talk but it is an uphill task when we try to implement it. In ground reality, many obstacles are there.  To initiate a production plant in Manipur, industrialists face lack of basic requirements such as electricity, transportation, experienced human resources and so on. Electricity is the main problem here. For manufacturing oxygen, power back-up for at least eight hours is necessary. Two big electricity transformers of 400 KV and 250 KV of worth Rs 44 lakh have been installed inside the industrial campus. He has spent about Rs 5 lakhs in hiring technical experts from the outside Manipur to install the oxygen plant. If Manipur has its own experts having such technical knowhow, such huge expenditure could be saved.  So far, a huge amount of money has been invested to materialize my dream. I never expected such a jumbo size amount of money would be involved in the industry. The present industry set-up might not have been materialized if I knew earlier that such a big amount would be needed in setting up the industry. To be a successful entrepreneur, one has to be brave, visionary and should have the skill of well planning and management. An entrepreneur faces many failures but he learns many things through mistakes" observed Khagemba. 
Many packaged drinking water bottles under the brand name Marina Spring manufactured by Reliable Hydro-tech are presently available in the markets of Manipur. The firm is planning to export its products outside Manipur as well. As the oxygen manufacturing plant has started commissioning, almost all the hospitals and industrial establishments will get to witness oxygen cylinders of this firm soon. 
Original Podcast is available at Finding the Voices by Monica Ingudam Episode 12 
[ecwid widgets="productbrowser search minicart" categories_per_row="3″ grid="10,3″ list="60″ table="60″ default_category_id="21294227″ category_view="grid" search_view="list" minicart_layout="MiniAttachToProductBrowser"]