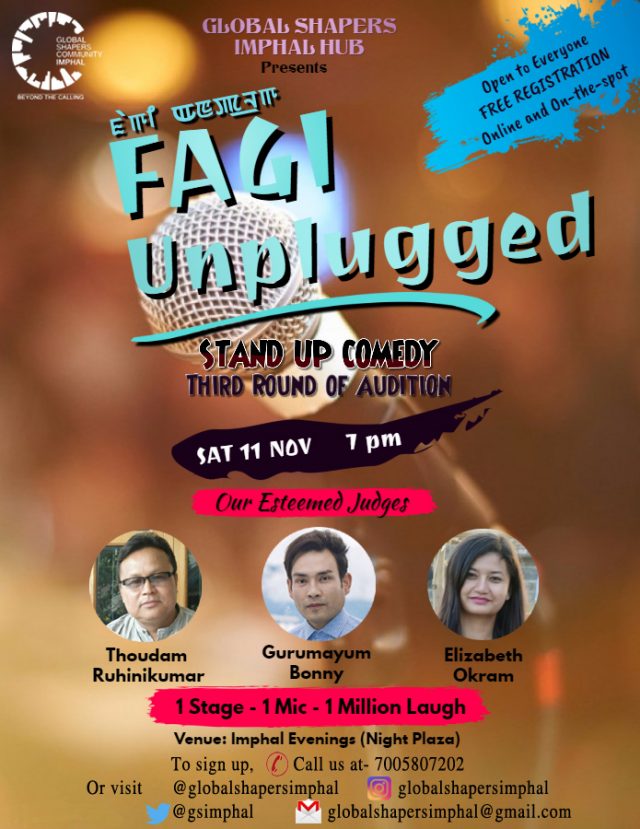 11th November 2017 : Global Shapers Community Imphal Hub is organizing the 3rd (and last) round audition for the Standup Comedy show, 'Fagi Unplugged' today i.e 11th of November 2017 from 7 pm at Imphal Evenings (Kangla Main Gate).
After a slight change from the initial program plan, GS Imphal is organizing one more audition to participate in the Standup comedy competition. The only simple rule for the audition is to make the audience and judges laugh. The finals are however designed with a set of guidelines with exciting prizes. All selected participants from the three audition rounds will be competing against each other in the final rounds.
The competition is open to people of all age groups who have a comic side. To sign up for audition, fill up this simple form here- https://goo.gl/forms/mGoz44jfOcgzQyiF2, Or call us at 7005807202
On spot registration is open too!!
To know more about Global Shapers Imphal, Follow us at-
Facebook – https://www.facebook.com/globalshapersimphal/
Twitter – @GSImphal
Instagram – @globalshapersimphal
Or email us at globalshapersimphal@gmail.com
Sd/
Elizabeth Okram
Curator
Global Shapers Community: Imphal Hub
An initiative of the World Economic Forum