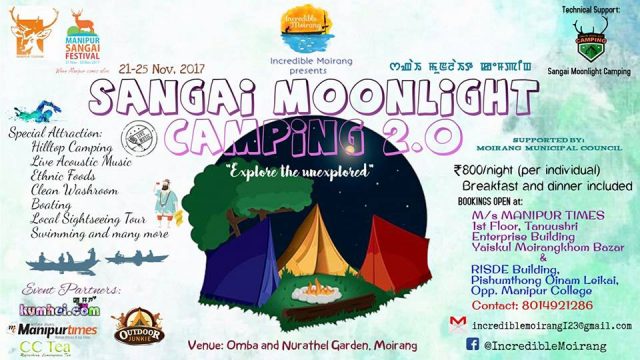 After successfully organised their first  edition previous year again team  Incredible Moirang is coming up with their own initiative of 5 days camping and music event  under the title SANGAI MOONLIGHT CAMPING  2.0 at Omba and Nurathel Garden, a natural garden in the two isles Omba and Nurathel hillocks in the midst of Loktak Lake.The Camping site is just half a kilometer from Sendra Island and it will provide convenience for all the tourists and visitors visiting Loktak Lake during Manipur Sangai Festival 2017. The aim of organising this event is to promote adventure tourism in the region and to give and opportunity to experience the real beauties of Loktak Lake,  Keibul Lamjao National Park and it's surrounding villages
Within the camping event one can experience the beauties of Loktak Lake and it's surrounding with lots of adventure activities and good music.
Location : Omba and Nurathel Garden, Loktak Lake, Moirang
Date :
21st to 25th Nov. 2017
Charge : Rs. 800 per person per day( includes dinner and breakfast  )
Special attractions :
        # lake side Camping
        # Bonfire
        # Live camp site music
        # Ethnic Foods
        # Boating
        # Cycle tour
        # Swimming And many more
        # Local sightseeing Tour
        # floating Hut visit
        # Clean washroom
For Booking please contact us on 8014921286 or visit our registration outlet .
Visit our Page Here : https://www.facebook.com/SangaiMoonlightCamping/
https://www.facebook.com/IncredibleMoirang/