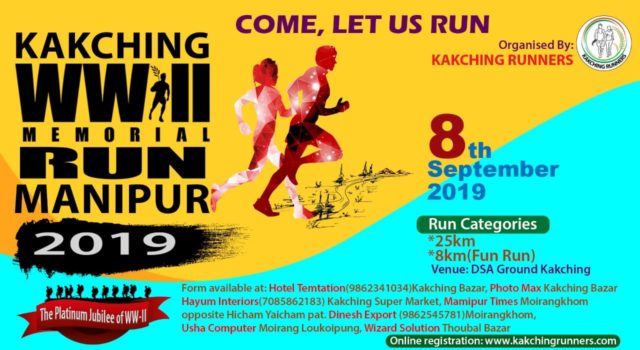 Dedicated to The Valient Soldiers of Allied and Japanese Forces, Azad Hind Fauj & Common People of Manipur, 1944
The World War – II Platinum Jubilee Commemoration Run
After an overwhelming support of the people last year, we bring the Second Edition of Kakching World War II Memorial Run, on 08 Sep 2019 at Kakching (Manipur).
Seventy Five years ago, the brave soldiers of Azad Hind laid down their lives fighting for Indian independence. Approximately 250 Azad Hind soldiers laid down their lives during an attack at the Kakching Airfield and nearby areas in Jun 1944. The sacrifices of Azad Hind Fauj soldiers led by Netaji Subash Chandra Bose and subsequent fallouts of this campaign largely contributed to ensuring total freedom for the people of Indian Subcontinent from British Rule.
The Manipur Second World War-II, 1944 between the Allied and Axis (Japanese) forces in Manipur changed history of the world.  We are conducting this historic, spiritual, environmental and recreational Run to commemorate sacrifices of all those brave soldiers who fought bravely and laid down their lives in Battle of Manipur.
Come one, come all, be part this historic recreational run, enjoy the bounty of nature, feel the warmth of the people of Kakching, Manipur.
RUN DETAILS
Categories for Men and Women
– 8 km Fun Run: T-Shirt and Breakfast – Rs. 500/-
– 25 km Run: Timing Chips, T-Shirt, Medal, Breakfast – Rs. 1200/-
– Age Categories: (i) Up to 45 years (ii) Above 45 years.
– Senior Citizens: Above 65 years 25 km run (honorarium prizes for all)
– Run Route: At and around Kakching  (i) 8 km : All plains, metaled road  (ii) 25 km: 90% plains, metaled roads, rest undulating hills and unpaved roads
Group Registration of 30 runners & above will be given concession.
Online Registration: http://kakchingrunners.com/upcoming-event-2/
Kakching World War-II Memorial Run, Second Edition - 2019
Physical forms available at
IMPHAL EAST/WEST
Indoor Stadium, DM College
Manipur Times, Moirangkhom
Dinesh Sports, Moirangkhom
THOUBAL DISTRICT
Wizard Solution, Thoubal Bazar
2. Diamond Radio, Khongjom
KAKCHING DISTRICT
Hotel Temptation, Kakching bazar
Photomax, Budhiraj Road
Hayum Interiors, Super Market
BISHNUPUR DISTRICT
1. Usha Computer, Moirang Loukoipung
Email: [email protected]
Mob:  +91-7085862183, +91-8794032432