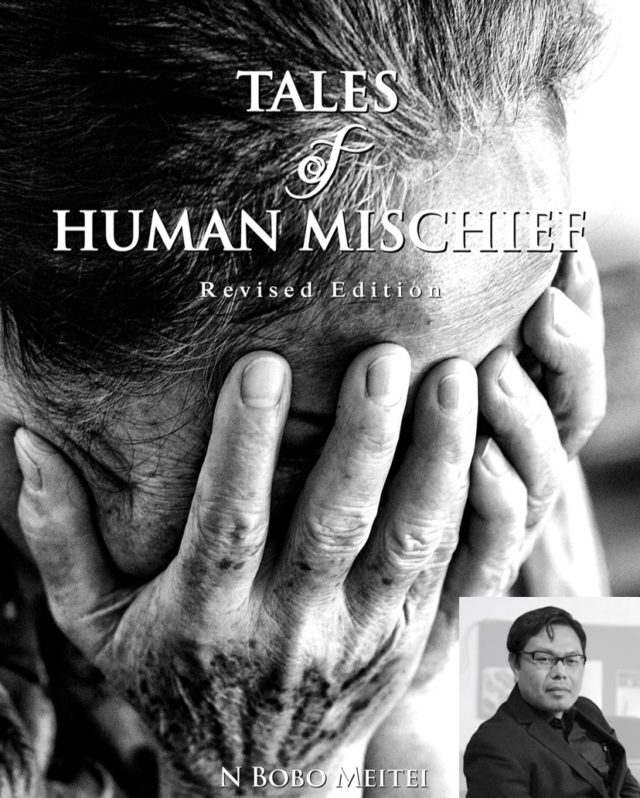 The ongoing armed conflict and civil unrest in Manipur has drawn a lot of attention. But it has hardly received deserving elaborate attention, the victims in particular. They have always remained as mere names and counted numbers whose stories have never been told.
Nameirakpam Bobo Meitei's Tales of Human Mischief is their stories, the stories of the insignificant many told with great significance in rich prose. Set in Manipur, also known as Kangleipak, the elaborate tales are the laments of a mother for her child who she will never see; the unheard voice of a young soul shaped by violence that surrounds him; the unspoken agony and humiliation of dishonoured victims; of those who have been gnawed by avarice and no longer bound even by basic moral code; the prolonged and widespread fear of those who live with the wish to be salvaged; and the extremity of terror and human brutality, to underscore some.
Written between 2010 and 2011, the book was first published in 2012 only to be withdrawn soon, owing to the publisher's lack of competence.
"There was no regret when the book was permanently pulled out along with the second book, which also suffered the similar fate. It apparently caused an end to an erratic relation, but it nevertheless gave one sufficient time to reflect on how to repair the damage and, most importantly, the editorial touch the book deserved," explains the author.
Tales of Human Mischief is Bobo Meitei's first book. The author is also planning to launch his second book, A Cursed Land, after a few months. The book is already available on www.amazon.in both in paperback and kindle format.
About the author:
Born in Manipur, also known as Kangleipak, Nameirakpam Bobo Meitei grew up in Kyamgei, Imphal, the capital of the state. He studied Economics at Pune University. He started his career as a language teacher in South-East Asia. Since 2011, he has been working in New Delhi, handling range of editorial profiles.
More about the author Nameirakpam Bobo Meitei: A gloomy and serious writer
Availabilit online at Manipurtimes Shopping Apps for Android
Amazon Paperback  Amazon Kindle
Physical copies are available at
Manipurtimes Shopping, Opp Hicham Yaicham Pat, Moirangkhom
Canchi Book Store, opposite Manipur University Gate,
PC Jain Store, Thangal Market, Imphal, and
The Readers Book Store (Manipur University)