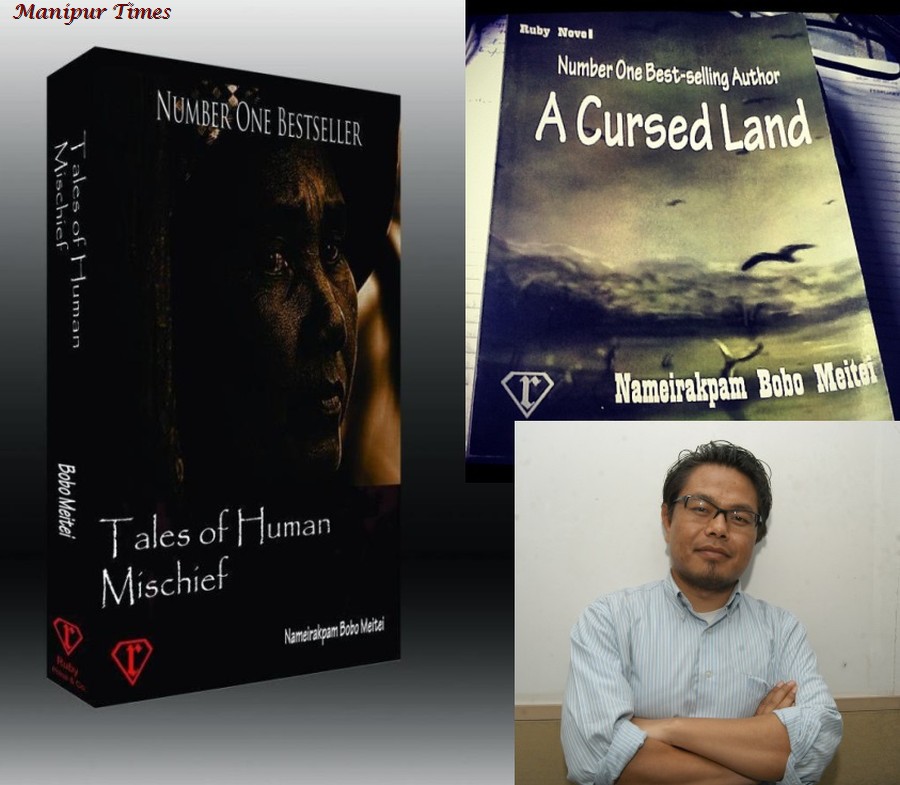 Source: FindingTheVoices
A touching story about Thoiba, a son of dead mother and father remarrying in a disturbing landscape, holds the compassionate heart of every reader of the book: The Tales of Human Mischief. Nameirakpam Bobo Meitei is one of the emerging young writers of Manipur, and probably the first novelist from the place writing in English. His writings are solitary and deal with the underprivileged segment of the turbulent society. The passionate 'short long stories' in the book are imaginatively derived from true stories he heard or incidents he experienced.
Bobo Meitei was born to a Nameirakpam Ibohal and Thongam ningol Rasho in Kyamgei, a place depicted as the most fertile land in Imphal in kindergarten textbook. His father is a retired government teacher and mother is housewife who was involved in social work as well. In 2010, he lost his eldest brother to cancer leaving behind 2 children. His other two elder brothers run a book shop opposite Manipur University main gate. And the only sister the brothers have got is married with a baby girl. While he was growing up he didn't get to see much of his father as he was always posted in almost all the hill districts of the state. Bobo Meitei went to C.C. Higher Secondary School in Imphal and later for higher education moved to Pune, where he lived for more than five years.
Aspiration of writing
Writing is something which he felt he should pursue when he was in high school. Unfortunately, his aspiration was not encouraged by his parents. Like most traditional parents who want their children to be either a doctor or an engineer; those were supposedly the only best options society could provide in these last few decades in a confused country. Bobo Meitei was also a virtual victim of the dominant paradigm. His parents wanted him to study art so that he could sit for civil service.
So it was Economics which he studied for five years; three years because people were studying and another two because he had to get a post graduate degree. And so nobody in the family encouraged him and never wanted to talk about that what he always wanted.  But some things cannot be easily buried; it made me restless and in extreme solitude he felt it stronger.
After post graduate school in Pune University, he moved to Bangkok where he lived for 6 years. He kept himself busy with teaching, and also nurturing what he should do. His years in Bangkok proved to be quite productive. He taught himself photography, read many books and soon became an ardent reader, and later became a film buff and wrote reviews as a part of his attempt to teach himself writing. Soon he reduced working hours to spend more time in libraries. This he went on so for 4 years.
He thus gradually started putting his hand on good and worthy stories. He first wrote for some site like e-pao.net.
Publication of "Tales of Human Mischief"
Struggling a good time in Bangkok, he gained a lot of experience and improved his skills. But he couldn't go on with two lives of being a 'dappy corporate person' and the budding serious writer in him. It was also the time he had succeeded in writing first novel after several failed attempts. Finally he hanged up his corporate boots and returned to India with the manuscript and stayed in Delhi scouting publishers. The publishers were very quick in rejecting his work. He was helpless, but after 5 months he realized that he was running out of money. It led him to his association Times Group, publisher of Times of India and Economic Times.
 After almost a year he was associated with a business magazine. Those were mere jobs, the book and his ambition was always in the back of his mind. It was Chingkhei from Rubys Press and Co, based in Delhi, who randomly asked one evening if he had any publishable materials. Only when he reread what he had written he realized that there were flaws, but it wasn't a bad writing. So the novel which he initially decided to name Green Desert was turned into 'long short stories' after most of the flaws were dealt with. And thus, his first book "Tales of Human Mischief" was created. The descriptive and melancholic tales are interwoven with clear characters flow the stories depicting the landscape of Manipur which the writer calls Kangleipak. Tales of Human Mischief is an intuitive work.
A Cursed Land: Bobo's second book
His improvised skills, made possible by consistent practice, led Bobo Meitei think about something grander. Right after the first book was published with little recognition he decided to write. It was from four in the morning till nine with a lot of coffee and then going to work. This rigorous time table went on till the end of 2013. And when the book was written he decided to 'the safe world of Delhi' with a job for Imphal to edit and also to think what he should write next. The same publishers published the book without any ceremony. There wasn't even a book launch programme. But A Cursed Land, his second book, was published.
It is rather an unconventional book which demands some courage from a reader. The descriptive book of a violent background and the disturbed protagonist, Nonglei, who has come to a new world as a stained person, dwells in the psyche of people who have become victims of circumstances and also questions the validity of a shamble democracy.
Nameirakpam Bobo Meitei Galley
Ideas of Bobo, being a writer
Writers are individuals with imaginative power and being a writer from a disturbed place one is bound to certain obligation. Some may claim that they write in their free time, but it is a full-time job. Often you work out what one should write in his mind and then dwell in it. You even take to sleep and wake up to. This is true for serious writers. It is a long journey and the risks are many. But in the end of the day, what is life without an ambition and what it must be like when one lives for a grander ambition.
The third book
He has returned to Delhi after the promised money had failed to come while he was writing his third fiction at his parents' house in Kyamgei. Right now Bobo Meitei is editing his third book, a political writing, and the writer claims that the book will surely provoke a lot of people and it could even land him in political controversy. 
Original Podcast is available at Finding the Voices by Monica Ingudam Episode 23