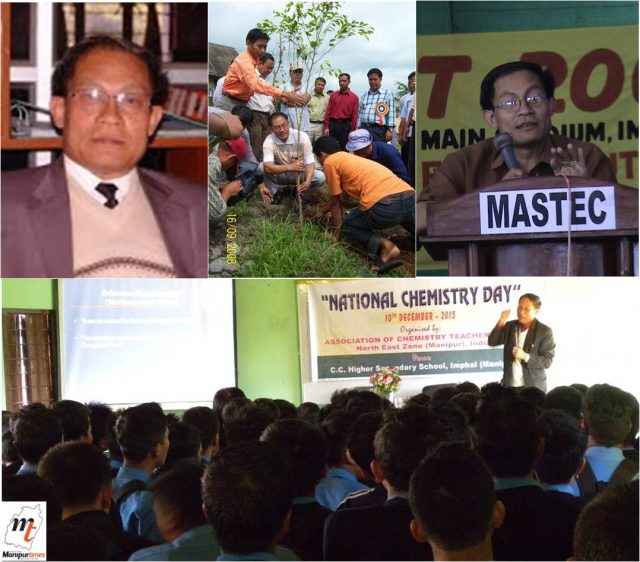 After serving Manipur University for long 31 years since 1985, Prof Nongmaithem Rajmuhon desires to transform the varsity into a learning and research centre for South East Asian or entire Asian nations on the backdrop of Government's ambitious Act East Policy. It is also his dream to have a Sophisticated Instrumentation Centre within the varsity campus. The centre will deliver services to all the Science Departments. He also wants to set up a Centre for Natural Product Resources.
Having published 90-plus research papers, involved in 12 research projects and supervised PhDs, Prof Rajmuhon needs no introduction in the field of Chemistry in Manipur.
Early Life
Born to Nongmaithem Sangaijao Singh and Nongmaithem (O) Ibemhal Devi on May 1, 1956 at Kakching Turel Wangma Uyok Chingya Leikol Pareng in Thoubal district, Prof Rajmuhon began his early education in the schools like Lilabati Hindi School, Kakching Primary School and Kakching High School etc. He is the eldest son among four sons and four daughters of his parents.
After passing Class X from Kakching High School under Board of Secondary Education Manipur in 1973, he continued his studies at DM College, Imphal. After completing B. Sc. from the college, he went to Gauhati University. Although he was supposed to complete M. Sc. (Chemistry) in 1979, he could not do so due to intense Assam agitation. However, it turned out to be a blessing in disguise later. He left Guwahati and went to Kurukshetra (Haryana) for his Master's degree. After completing M. Sc. (Chemistry) in Kurukshetra University in 1982, he became the first Junior Research Fellow of the UGC Laser Scheme Project at the varsity to work on Laser Raman Spectroscopy. He worked on the project from 1983 to 1985.
Prof Rajmuhon got his M. Phil. (Chemistry) in 1983 from the same University. During his Ph. D. Course, he worked on Outer-Sphere Ion Association of Cobalt (III) Complexes.
Joining Manipur University
On the insistence of a Professor, he joined the Chemistry Department of Manipur University in 1985. He received his Ph. D. in 1990 from the same University.  After he was elevated to a Professor in 2003, he served the Department of Chemistry as HOD from 2005 to 2007.
He has also served the varsity as Dean of Student's Welfare (2001-2004), Warden of Boy's Hostel from 1998 to 2000 and Deputy Coordinator of UGC-SAP from 2009 to 2014. Presently, he is Dean of Mathematical and Physical Sciences.
He was former Court member and Syndicate member of Manipur University. Currently he is member of Academic Council and Board of Studies. He is also Vice-President of Manipur University Alumni (starting from 2015).
Most of his research papers were published mainly in reputed international journals including American Chemical Society (Inorganic Chemistry), Spectrochimica Acta Part-A, Journal of Alloys and Compounds, Royal Society of Chemistry, Journal of Applied Physics, Journal of Luminescence, Arabian Journal  of Chemistry, Material Science & Engineering B, Journal of Rare Earths, European Journal of Inorganic Chemistry, Micro & Nano Letters, Journal of Environmental Geology, Environmental Science and Pollution Research, etc.
Prof Rajmuhon has guided 14 PhD students in the areas of Ion-Solvent Interaction; Spectral Analysis of 4f-4f Transitions; Synthesis, Characterization and Luminescence Properties of Lanthanides Doped Nanomaterials; Arsenic Contamination in Tube-Wells; Biodiversity Conservation; etc.
He has trained seven Junior Research Fellows, two Senior Research Fellows, six Post Doctoral Research Fellows (as one Pool Scientist, four Research Associates including one women scientist) under major research projects sponsored by UGC, DST, DBT, CSIR, MoEF, AYUSH and BRNS (BARC).
Prof Rajmuhon has participated and presented papers in a number of  national and international conferences, seminars, workshops including the 6th  and 7th International Conference on f-Elements at Wroclaw University, Poland (September 4-9, 2006) and at Koln University, Germany (August 23-27, 2009).
He has delivered a number of invited/plenary/keynote lectures in several international and national floras including the keynote lecture on "Traditional Fermented Foods of Manipur with Special Reference to Chemical and Biological Studies of Fermented Bamboo Shoots" during the International Conference on Food Engineering and Biotechnology" held at First Hotel, Bangkok on 28th May 2011. He chaired in a number of scientific sessions.
He also delivered lectures in a number of Refresher Courses, Short-term Courses and Orientation Programmes conducted by different departments under the Academic Staff College, MU. He is also involving in the discussion of curriculum framework and educational policy of SCERT, Government of Manipur; syllabi of under graduate, post graduate and pre PhD courses of Manipur University.
Prof Rajmuhon is also taking keen interest in popularization of science. He was one of the key persons involved (as the Founder President of Manipur Association for the Promotion of Science) in establishing Manipur Science and Technology Council (MASTEC), Imphal and keenly associated with its activities like Science Meets, Training for talented students, Teachers' Science Congress,  etc.(1997-till date).
He is also the founder member of Research Institute of Science and Technology (RIST). He is also interested in the production of films. His film "Orchids of North East India" has been telecast many times on DDK. He was involved in making the Teri's film "Back To Roots" which also had been telecast in National Geography Channel. For production of educational films for AVRC (now EMMRC), Manipur University, many episodes of orchids had been made from his orchid garden. He was also a consultant of the film "E-THIL" written and directed by Manoj Kshetrimayum which won Best Film in short fiction film category, 8th cut.in film festival, 2016.
Prof. Nongmaithem Rajmuhon Singh, Manipur University
He has also delivered lectures on different social issues like educational policy, climate change issues, environment and biodiversity, indigenous knowledge and intellectual property rights, scientific temper, inspirational talk, career guidance and counseling, etc., in a number of programmes organized by various departments, educational societies, NGOs, NSS etc within and outside the state of Manipur.
Personal Life
He married with N Mema Devi in 1985. The couple has one daughter and one son. Their daughter has completed PhD in the field of soil Science and the son is a research scholar on food processing engineering at University of Saskatchewan, Canada. Prof Rajmuhon has written around 14 books so far and wished to continue writing after retirement as well.