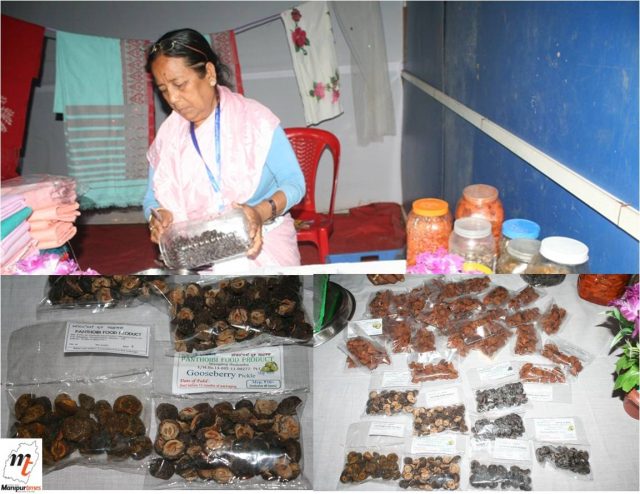 Apart from taking major role in fighting various social issues of the state, Manipuri woman also occupy a major share in the trade and commerce of the state as well as in maintaining economy of their families. Their role in the socio-economic and cultural life of Manipur is significant.
Similarly, left by her husband at an early age of her 24 years of age, Maibam Ningol Hijam Ongbi Mema (58), a woman entrepreneur from Thoubal Wangjing Hodamba had to experience a bitter life. She had to take up many odd jobs to maintain the needs of her family and feed her starving sons.
Mema is the wife of Yaima of Wangjing Hodamba, a truck driver by profession. Her husband passed away in a road accident in Assam Bokajan leaving his wife and kids. Untimely demise of her husband left a big vacuum in the family, prompting her to experience the hardships of life and take up any available job a woman could do at her early age. Mother of three sons, Mema worked in the paddy field, sometimes as a vegetable seller in market to maintain her penury driven family. Now, her sons are fully matured. Eldest son is serving in Assam Rifles while another son taking up his own business. She can now breathe a sigh of relief.
"My husband passed away years back leaving me with all the burdens to maintain the poor family with three kids. Running a family without husband was a tough task. I am not well educated, so all I could do was to move from place to place and sell processed fruits, there was nothing much I could do otherwise to support my family. Life is not easy for a poor, uneducated village woman like me. It is a constant struggle for survival and earning at the level best one can do", she said.
Initial business venture
With a small working capital, she initiated preparing pickles and candies with the locally available fruits under the brand Panthoibi Foods some years back. She sells her products to local schools, government offices and local retail outlets in Thoubal. She used to supply her processed fruits to Slopeland School, Khongjom.
Apart from her dealings with processed fruit, she also deals in nurturing nursery sapling of gardening purposes. She has provided saplings to Tentha, Langathel, DC Thoubal office, Thoubal Co-operative office.
Idea of starting the business
The idea of transforming locally available fruits into new zest of taste clicked Mema's mind after she saw many fruits like gooseberry, boroi, mango going to waste and decay due to lack of proper preservation and processing. She thought that that the locally available fruits could be commercialized if properly preserved and processed. She started collecting the raw fruits and processed it.
Despite her passion for making fruit candies and pickles, Mema had no initial knowledge of food processing. Her skill was improved only when she attended a month long training course on fruit processing at Institute of Co-oprtative Management, Lamphelpat. Participation in the training highly motivated her to initiate her venture in fruit processing.
She formed a Self Helf Group called Wangjing Hodamba SHG and started producing a wide array of pickles and candies under the brand Pathoibi foods. Advent of NCUI project Thoubal was another boon to Mema as she received much support from one project director called Devendra.
Employment
With her business booming, she started giving employment to some other local women in her farm. She also provides training to the aspiring entrepreneurs on how to make candies and pickles from locally available raw fruits.
Stating that her business is now thriving Mema said that she wishes to expand her business to give more employment to many helpless women in the state and work with them. I want to support the women, particularly the victims of domestic violence and the widowed, she said.
Marketing
Marketing is another problem which the local entrepreneurs usually experience in their business venture.  Even as the entrepreneurs are manufacturing varieties of food items, their scope of market is limited due to lack of proper market place and local support thereby disheartening the entrepreneurs. Encouragement to local products will help state economy, part from creating more employment avenues, she observed.
Message
Life can start from zero level. However, one can be successful in life if he/she cultivates work culture. We should not be disheartened by a failure. We should work hard with an unflinching determination till the desire goal is achieved, she said.
[ecwid widgets="productbrowser search minicart" categories_per_row="3″ grid="10,3″ list="60″ table="60″ default_category_id="21294227″ category_view="grid" search_view="list" minicart_layout="MiniAttachToProductBrowser"]