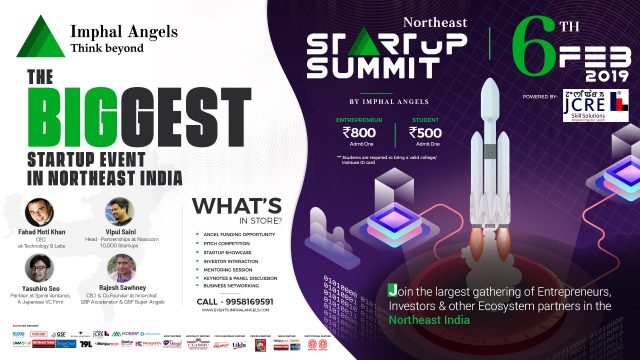 Northeast Startup Summit 2019 is a flagship startup event by Imphal Angels, the 1st private Angel Network in North-East India.
With a vision to create a vibrant and diverse startup ecosystem in North-East India, Imphal Angels is organizing the first summit of its kind, a startup summit to bring the various ecosystem players like aspiring entrepreneurs, startups, mentors, investors, VC funds, and local industry on one common platform to promote entrepreneurship and to build a robust startup and innovative ecosystem in North-East India.
Date & Time: February 6, 2019; 10:00 am to 6:00 pm
Venue: Hotel Imphal. North AOC, Imphal
What's In Store
Angel Funding Opportunity
Pitch Competition
Startup Showcase
Investor Interaction
Mentoring Session
Keynotes & Panel Discussion
Business Networking
Prizes for top 3 winners of Startup Pitching Competition
1. 1st winner to get upto 3 lacs angel funding
2. Automatic qualification to IA pitching
3. NASSCOM Startup Kit – free credits from the partners, including Google Cloud, Amazon Web Services, Digital Ocean, Microsoft Azure, IBM Cloud, and 25+ others.
4. Yourstory exclusive coverage
5. Manipurtimes Free Ads credits of 1 to 3 months (valid for one year)
Online tickets available at
https://events.ImphalAngels.com
Latest updates on Facebook event page
https://www.facebook.com/events/590562941368698/
Offline tickets will be available at the following locations
1. Books & Coffee, Singjamei Yumnam Leikai.
2. Horizon, Shop No.11 Lamphelpat.
3. Forage Restaurant, Thangmeiband.
4. Levi's Excusive Store, Thangmeiband Hijam leikai.
5. Manipur Times Office, Moirangkhom
Event Schedule
10.00 AM Introduction of Imphal Angels
10.00 AM to 04.00 PM Startup stall: Showcase your startups
10.10 AM How to become an Investable startup
10.40 AM How to Pitch to Investors
11.00 AM How to raise your seed fund
11.30 AM Nasscom initiative for startups
12.00 PM Business Lunch Break
01.00 PM How an NE startup got VC funded
01.30 PM The story of HOSPAL Investment
02.00 PM 10 Selected startups open door pitch to Investors.
05.00 PM Announcement of the winning startups
05.15 PM Mentoring session with investors for 15 selected startups
06.00 PM Networking & dinner with Investors & ecosystem partners
Title Sponsor
JCRE Skill Solutions
Hospitality Partner
Classic Group of Hotels
Food & Beverage Partners
Machal (Kangleipak Spices Industry)
LIKLA (Thangjam Agro Industries Pvt. Ltd.)
Media Partners
Yourstory
North East Today
Impact TV
Mannipur Times
IT Partner
Mobimp
Printing Partner
Siroi Offset Printers
Event Partner
Thougal Event Solutions
Our Ecosystem Partners
10000 Startups by NASSCOM
Technology 9 Labs
Spiral Ventures
Yourstory
GSF Accelerator
Innov8
Innerchef
Startup Grind
Yourstory
North East Today
Impact TV
Mannipur Times
JCRE Skill Solutions
Mobimp
Neopath Technologies
About Imphal Angels
Imphal Angels provides early stage equity-based funds to disruptive startups founded by tenacious entrepreneurs. We are primarily focused on founders from north eastern India building disruptive startups with asset light scalable business models and going after a large market. However, we are open to invest in opportunities from all over India.
Vision
To create a vibrant and diverse startup ecosystem in North East India, facilitating world class products and services serving large markets.
Mission
To help and nurture innovative startups from North East India reach multi-million dollars valuation.
Website: https://ImphalAngels.com
Event website: https://events.ImphalAngels.com
Facebook: Facebook.com/ImphalAngels
Instagram: Instagram.com/ImphalAngels
Twitter: Twitter.com/ImphalAngels
Contact Details: [email protected]
Whatsapp/Phone: +91 99581 69591