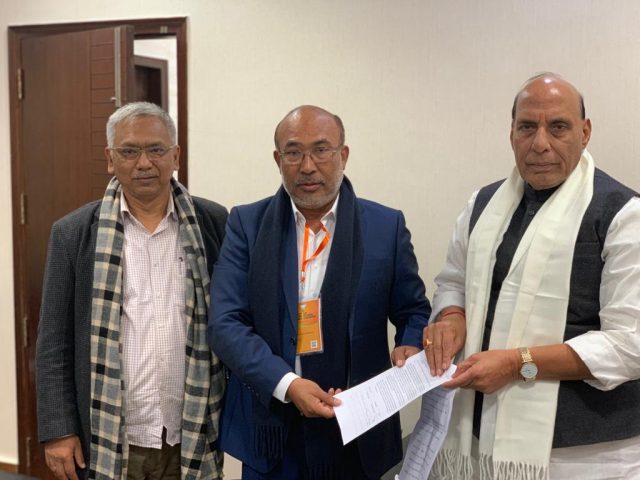 Imphal, January 12, 2019 (DIPR): Chief Minister Shri N. Biren Singh along with Rajya Sabha MP Ksh. Bhabananda Singh today met Union Home Minister Shri Rajnath Singh and submitted a memorandum for giving Presidential assent to Manipur People's Protection Bill 2018. The Bill was passed by Manipur Assembly on 23rd July 2018. It is currently with the home ministry since then after the Governor had forwarded the bill to get the nod of the President of India.
In the meeting, Chief Minister also urged the Home Minister to protect the rights of the indigenous people of Manipur that might be impacted by Citizenship Bill. Shri Rajnath SIngh has assured the Chief Minister that the interests of Northeastern states especially Manipur along with the cultures and customs of its peoples will always be protected and requisite safeguards will be made in this regard.
The memorandum mentioned that population of the state is only about 0.2 percent of that of the whole India. Manipur has a large number of ethnic groups, each with unique dialects, customary laws and practices. Adequate constitutional protection is considered necessary to protect these small indigenous populations.
The Manipur People's (Protection) Bill, 2018 was passed by the State Legislative Assembly to protect the interest of indigenous population of the State. The passage of the Bill had restored the confidence of the people of the State. The bill has since been moved to the President of India for getting his assent.
It may be mentioned that the Citizenship Amendment Bill (CAB) had been passed by the Lok Sabha on January 8. There is apprehension in the minds of the people of the state that the proposed CAB will not be in the interest of the indigenous people of the State.
There is apprehension also that once the CAB is implemented in the state, the state could be flooded with a large number of illegal immigrants and foreigners from neighbouring countries such as Bangladesh, Pakistan, and Myanmar and so on, as international borders are porous.
Taking into account of all these factors, the memorandum requested the Union government to give asset to Manipur Peoples' (Protection) Bill, 2018 and also to exclude the state of Manipur from the jurisdiction of Citizenship Amendment Bill.