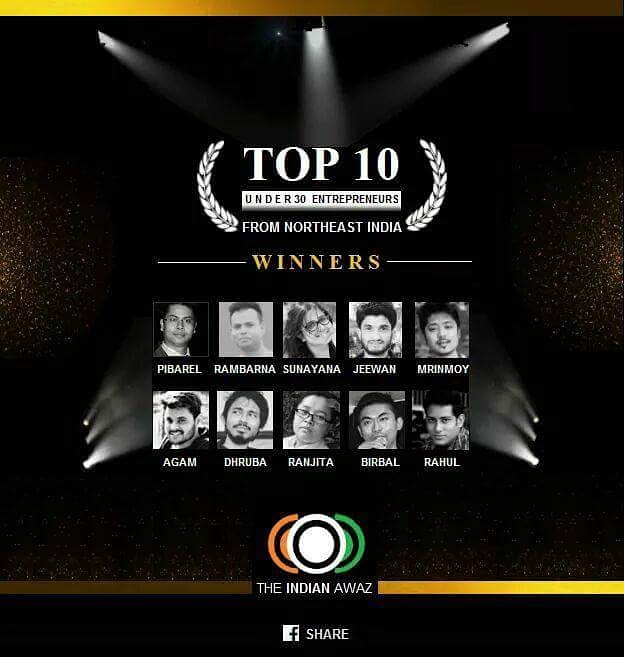 In order to foster the entrepreneurship culture at grassroots in Northeast India, The Indian Awaz recently welcomed the startup platforms in Northeast India to showcase their startups following 'TOP 10 | Under 30 Entrepreneurs Awards 2017'.
Several startups were nominated for the 'TOP 10 | Under 30 Entrepreneurs Awards 2017'. And the result of the same has been declared on Sunday. It was declared following two categories – under public selection and under judges selection.
Winners under Public opinion category:
A. Pibarel Meetei
B. Rambarna Sharma
C. Jeewan Dahl
D. Sunayana Sen
E. Mrinmoy Buragohain
Winners under Judges selection category:
A. Ranjita Ningthouja
B. Birbal Chingangbam
C. Agam Raghav
D. Dhruba Jyoti Deka
E. Rahul Hazarika
A selection committee was set up to analyze the growth and tasks of the startups. The extolled Judges Panel was graced with Mr.Arunabha Bhattacharjee (Founder, Power Is You Global Movement, Miss. Anisha Das (Operations Head- NE8x), Mr.Dhruba Jyoti Arjuna (President- Maatri Enterprises) & Mrs.Manmoyuri Devi (Cofounder- Assamica Agro).