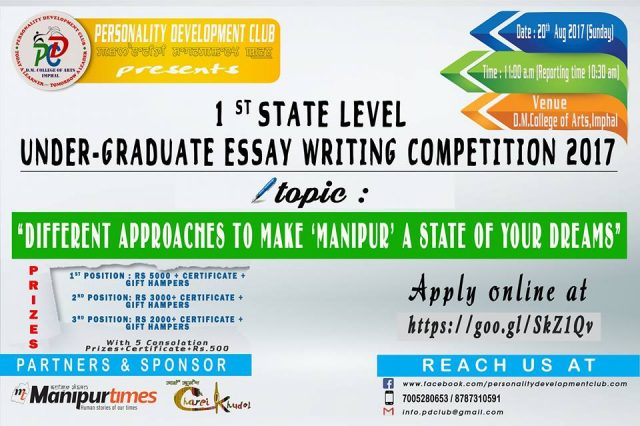 Personality Development Club is organizing the Ist State Level Essay Writing Competition 2017 with the aim of enhancing the writing talents of young budding professionals.
TOPIC: "Different Approaches To Make 'Manipur' A State Of Your Dreams".
WORD LIMIT : About 1200 – 1500 words
MEDIUM OF WRITING : English
Date of competition : 20th August 2017 (Sunday)
Time : 11:00 a.m ( Reporting Time : 10:30 a.m )
Venue : D.M College of Arts,Imphal
ELIGIBILITY : Any student in their undergraduate can make submissions for this competition.
SUBMISSION GUIDELINES :
1. Submissions to be made (online) on : https://goo.gl/SkZ1Qv
2. Offline at : PD CLUB , D.M COLLEGE OF ARTS , IMPHAL
Registration Fees: 100 INR ONLY
Last Date of Submission: 17th June 2017
The winner will receive a cash award of 10000 INR + Gift Hampers.
The first position will receive 5000 INR
The second : 3000 INR and
The third : 2000 INR
Prize Distribution will be held on 17th Sept, 2017 (P.D. Foundation Day)
For further information please contact :
Mobile : 7005280653/8787310591
Email : [email protected]
FB : https://www.facebook.com/pdclubdm/
[ecwid widgets="productbrowser search minicart" categories_per_row="3″ grid="10,3″ list="60″ table="60″ default_category_id="21294227″ category_view="grid" search_view="list" minicart_layout="MiniAttachToProductBrowser"]