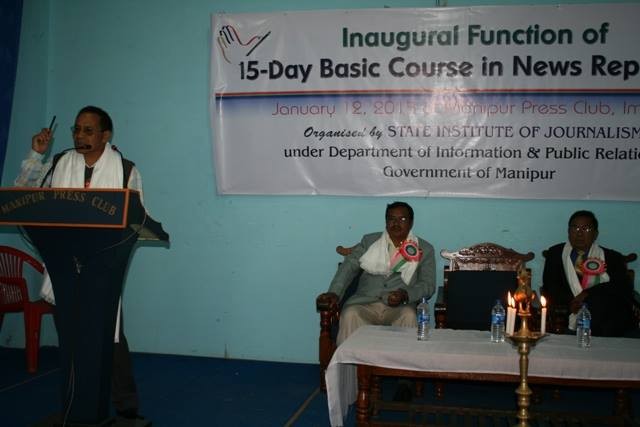 Journalist should focus on research while reporting, says DIPR Director
IMPHAL, January 12: 15-day basic course in News Reporting organized by State Institute of journalism under Department of Information and Public Relations (DIPR),Government of Manipur kicked off today at Manipur Press Club, Imphal.
Inaugurating the training course, Letkhogin Haokip, IAS, Principal Secretary (IPR) said that the role of media in bringing social change and development is increasing day by day. As such, the role of reporters collecting various news is important. People believe what the media express. Hence, reporters should focus on providing the people with objective or factual reports rather than subjective ones.
With a view to provide the people with news based on facts, a reporter should learn the basic of news reporting, he said and added that the training program on basic news reporting would benefit the trainees to a great extent and all the trainees should learn and get the best out of the training.
DIPR Director W Rajen lamented that almost reporters of the state are providing news without focusing on indebt research and analysis. Weakness in such areas of reporting needs to be improved so that the media can serve the people effectively.
Reiterating the importance of media in society, he said that media bridges up the gap between the people and Government. An influential Media moulds public opinion by informing the policies and programs of the Government.
The training program was also attended by Wangkhemcha Shyamjai, President, AMWJU. 29 trainees including some working journalists are participating in the 15 days training program. 19 resource persons including senior journalists, prominent editors and other expertise in media related issues will be the trainer.
On the inaugural day, Dr. A. Ibomcha Sharma, Editor and Head, RNU, AIR, Imphal spoke on the topic of 'journalistic ethics and codes.'