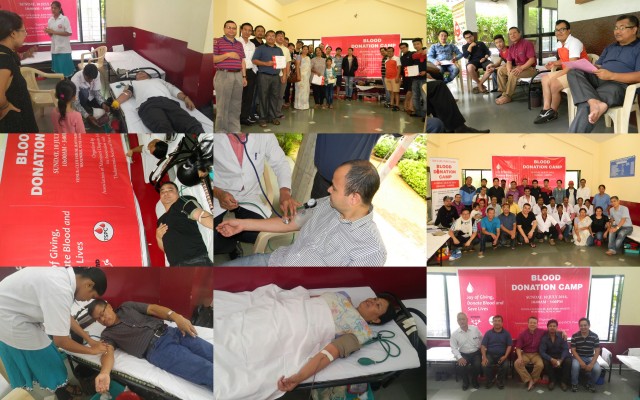 Transfusion of blood and blood products helps in saving millions of lives every year during emergencies such as accidents, conflicts, natural disasters, and childbirth etc. It also helps patients suffering from life-threatening conditions to live longer and with better quality of life.Donation of blood also supports complex medical and surgical procedures. To raise awareness for the need of safe blood and blood products & to thank voluntary blood donors for their life-saving gifts of blood, World Blood Donor Day has been observed on June 14 annually since 2004.
The Association of Manipuri Diaspora (AMAND), Pune which is a registered non-profit,non-government community organization formed by the Manipuri professionals working in/retired from the Central Government or Maharashtra Government or other reputed Institutions based in and around Pune, has organized a blood donation camp on Sunday, the 10th July, 2016 at Club House, Ravi Park, Wanorie as a part of its annual social outreach program. The camp witnessed active participation from the enthusiastic family members of AMAND and other well wishers who volunteered to donate 40 units of blood for this noble cause after passing through preliminary medical tests like Blood Pressure, Haemoglobin level, Blood Group, weight-check etc. Donated blood can be used as a whole, or separated into its component parts like red blood cells, white blood cells, platelets, plasma, and other substances as required and save many lives by treating a wide range of diseases. A single unit of blood can be used to benefit several patients.
After due deliberation, AMAND Pune decided to donate our precious bloods to the Thalassemia Society of Pune Chapter. Thalassemia is a form of inherited autosomal recessive blood disorder characterized by abnormal formation of haemoglobin that causes the weakening as well as the destruction of red blood cells (RBC) due to improper oxygen transport. This noble mission aims to save children affected with thalassemia who needs a special care & regular blood transfusion. Thalassemia major needs blood transfusion once in 2-4 weeks. The camp has helped general public in gaining awareness about thalassemia as well as about benefits to blood donors.
All the donors were served with fruits, fruitjuice, tea and snacks after the donation.Donors were also awarded certificate of donation as well as donor card by Akshay Blood Bank with whom Thalassemia Society of Pune chapter has been working for blood donation camps.They also presented a certificate of appreciation & memento to AMAND, Pune for this noble cause.
As a token love & appreciation, AMAND Pune also presented 02 (two) packets of green tea (CCTea) each to all donors & technicians. We are very much thankful to Mr. H. David & Mr.Th. Amarjit for sponsoring the CCTea packets.
AMAND, Pune duly acknowledge and thank all the donors & technicians for their active participation and cooperation to make the noble mission successful. The camp was concluded with warm thanksgiving, appreciation and group photographs.
With best Regards,
(Dr. H. Narendra Singh)
Program Coordinator