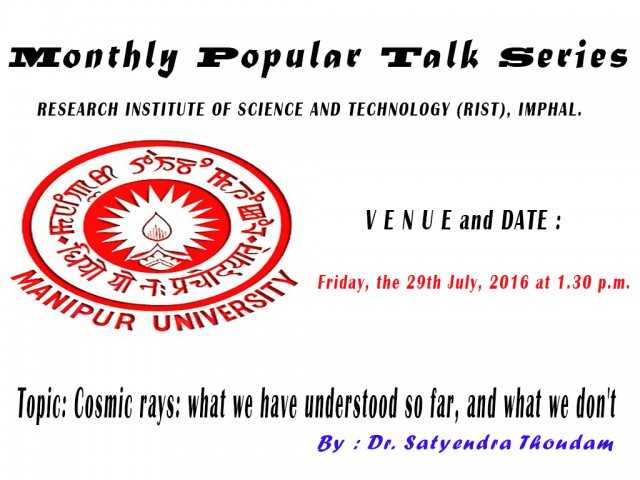 You are cordially invited to attend the monthly popular talk series organized by the RESEARCH INSTITUTE OF SCIENCE AND TECHNOLOGY (RIST), IMPHAL.
Topic : Cosmic rays: what we have understood so far, and what we don't
By: Dr. Satyendra Thoudam
Department of Physics and Electrical EngineeringLinnéuniversitetet, 35195 Växjö, Sweden, Email: [email protected]
Abstract: Cosmic rays are high-energy particles, mainly charged nuclei, which are most likely produced by violent astrophysical objects in the Universe. They are distributed throughout the inter-galactic space and galaxies including our own Milky Way, and are continuously bombarding our Earth from all the directions, creating secondary particles in the atmosphere that passes through every object on the surface of the Earth. Since the discovery of these "mysterious" particles more than a century ago, although tremendous efforts have been made both at the experimental and theoretical levels to understand their properties and origin, the exact nature of their sources still remains an open question. The problem is strongly connected to our understanding of the nature of their propagation through the Galaxy and the inter-galactic medium, which in turn requires a good knowledge of the (poorly known) structure of the intervening magnetic fields. The focus of the seminar will be to briefly summarise new results from current major astroparticle experiments, discuss their theoretical implications on the origin and propagation of cosmic rays, and introduce some future experiments that may resolve some of the standing issues.
V E N U E and D A T E :
SEMINAR HALL, DEPARTMENT OF PHYSICS, MANIPUR UNIVERSITY
Friday, the 29th July, 2016 at 1.30 p.m.
(N. Nimai Singh)
Convener,
RIST monthly popular talk series