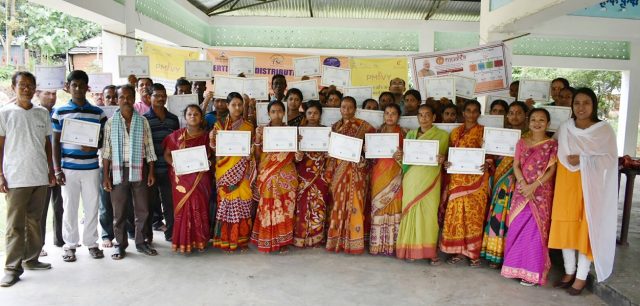 11th August 2018 : ''Chanu Creations'' Thangmeiband Lairenhanjaba Leikai, Imphal West, Manipur was organized the function of Certificate Distribution Ceremony for the successful candidates of FRESH training (300 hours skill development training) of Scheduled Castes Candidates under National Scheduled Castes Finance & Development Corporation (NSFDC) Skill Development Training Programme (SDTP) for the year 2017-18 on 11th August, 2018 at Baidyardighi, Sepahijala District of Tripura.
The National Scheduled Castes Finance and Development Corporation (NSFDC) was set up in 1989 as a "Company not for profit" under Section 25 of the Companies Act 1956 (i.e. now Section 8 of the Companies Act, 2013) with the objective of financing income generating activities of SC beneficiaries living below Double the Poverty Line limits (presently Annual Family Income of up to Rs.98,000/- for Rural Areas and up to Rs.1,20,000/- for Urban Areas). The mission of the NSFDC is to promote prosperity among Scheduled Castes by improving flow of financial assistance and through skill development & other innovative initiatives.
Under NSFDC SDTP 2017-18, Chanu Creations has trained 87 Scheduled Castes Candidates of FRESH training (300 hours skill development training) on Two Shaft Handloom Weaver from 31/03/2018 to 19/05/2018 in Baidyardighi, Sepahijala District of Tripura in collaboration with Textile Sector Skill Council (TSC). There were three batches in total.  The assessment of the trainees was conducted by M/s Grow Well Fincon Services Pvt. Ltd., Hyderabad.
Shri Sudip Shahi Vice President (BJP Mandal), 17 Golaghati (S.T)-Tripura, Shri W. Joyshankar Luwang Project Manager of Chanu Creations and Shri Gaurchand Biswas Mandal SC President, Tripura were grace the function as Chief Guest, President and Guest of Honour respectively. Smt. Chirom Indira Proprietor/CEO of Chanu Creations (National Awardee 2015, Nari Shakti Puraskar Awardee 2017, DMA All India Women Entrepreneurs Awardee 2018, Vasundhara Hall of Fame Awardee 2018) was also joint the function little lately for encouraging the trainees and other guests as well.