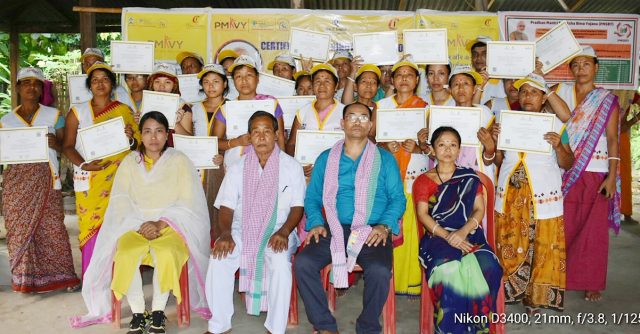 12th August 2018 : Pradhan Mantri Kaushal Vikas Yojana (PMKVY) is the flagship outcome-based skill training scheme of the Ministry of Skill Development & Entrepreneurship (MSDE). This skill certification and reward scheme aims to enable and mobilize a large number of Indian youths to take up skill training and become employable and earn their livelihood.
RPL is a key element under Pradhan Mantri Kaushal Vikas Yojana (PMKVY) scheme. Individuals with prior learning experience or skills shall be assessed and certified under the Recognition of Prior Learning (RPL) component of the Scheme. RPL is a platform to provide recognition to the informal learning or learning through work to get equal acceptance as the formal levels of education.
Under this scheme, Chanu Creations, Thangmeiband, Imphal has trained RPL-PMKVY training to 45 weavers (including 14 male weavers) in Bishalgarh, Sepahijala District of Tripura. RPL is an important step towards getting formal acceptance and respect for informally acquired knowledge and skills. Recognition brings respect, increases productivity, creates options for growth through RPL.
Today the 12th August, 2018 the certification for the successful candidates of RPL-PMKVY for Sepahijala District was held at Baishalgarh. In total 41 candidates were certified and distributed their RPL Certificates. Shri Jitendrachandra-Singh Mandal President Durga Nagar Panchayat (Tripura), Smt. Chirom Indira-Proprietor/CEO Chanu Creations (National Awardee 2015, Nari Shakti Puraskar Awardee 2017, DMA All India Women Entrepreneurs Awardee 2018 & Vasundhara Hall of Fame Awardee 2018) and Shri W. Joyshankar Luwang-Project Manager Chanu Creations were grace the function as Chief Guest, President and Guest of Honour respectively. Empowering and embedding self-esteem into women is one of the biggest missions of the Chanu Creations.