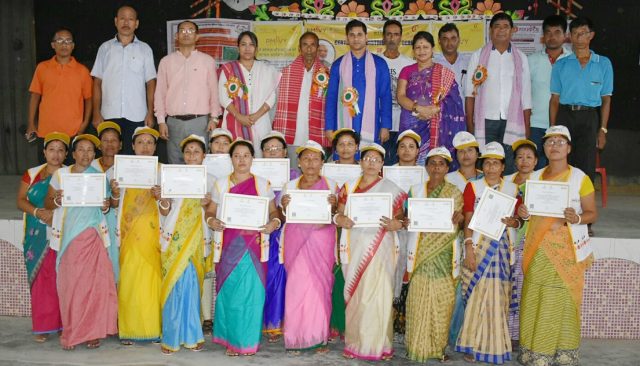 14th August 2018 : Skills and knowledge are the motivating forces of the financial growth and economic development of any country. The Union Cabinet had approved India's largest Skill Certification Scheme, Pradhan Mantri Kaushal Vikas Yojana (PMKVY), on 20 March, 2015. The Scheme was subsequently launched on 15 July, 2015, on the occasion of World Youth Skills Day by Hon'ble Prime Minister, Shri Narendra Modi. PMKVY is implemented by National Skills Development Corporation (NSDC) under the guidance of the Ministry of Skill Development and Entrepreneurship (MSDE). With a vision of a ''Skilled India'', MSDE aims to skill India on a large scale with speed and high standards. PMKVY is the flagship scheme that is driving towards greater realisation of this vision.
Under PMKVY, special focus is given to RPL by recognizing prior competencies of the assessed candidates and provides a certificate and monetary reward on successful completion of assessments. RPL mainly focuses on the individuals engaged in unregulated sectors. RPL is an important step towards getting formal acceptance and respect for informally acquired knowledge and skills. Recognition brings respect, increases productivity, creates options for growth through RPL. It is a platform to provide recognition to the informal learning or learning through work to get equal acceptance as the formal levels of education. It aims to appreciate prior learning irrespective of the medium of achieving it.
Under this scheme, Chanu Creations, Thangmeiband, Imphal has been trained RPL-PMKVY in the job role ''Two Shaft Handloom Weaver'' to 348 weavers (including 16 male weavers and 1 transgender) in Unakoti District of Tripura from 22nd March, 2018 to 26th March, 2018 as PIA under NSDC. There were 7 batches in total. The assessment of the trainees was held on dated 24th, 27th & 28th March, 2018 by the Assessment Agency assigned by Textile Sector Skill Council (TSC).
Today the 14th August, 2018 the certification ceremony for the certified RPL-PMKVY candidates of Unakoti District, Tripura was held at Kailashahar. Altogether 347 candidates were awarded certificates at the event. The programme was attended by Shri Sudhangshu Das Hon'ble MLA FATIKROY Assembly Constituency (Unakoti District), Smt. Chirom Indira Proprietor/CEO Chanu Creations (National Awardee 2015, Nari Shakti Puraskar Awardee 2017, DMA All India Women Entrepreneurs Awardee 2018 & Vasundhara Hall of Fame Awardee 2018), Smt. Sumita Sinha Social Worker, Shri Sanatchandra Datta Social Worker, Shri Rajeswar Singha Social Worker and Shri W. Joyshankar Luwang Project Manager Chanu Creations were grace the function as Chief Guest, President and Guest of Honours respectively.
The objective of this Skill Certification Scheme is to enable a large number of Indian youths to take up industry-relevant skill training that will help them in securing a better livelihood. RPL also shows them a path to bridge their current knowledge and skill levels to reach a competency level or go for higher skills for professional growth.
Chanu Creations is marching towards the transformation and reformation of the working condition of the women weavers in the region. By giving women skills and new opportunities, we can unlock their full potential and enable every woman to find a new meaningful place in society. Empowering and embedding self-esteem into women is one of the biggest missions of the Chanu Creations. It is truly gratifying that the efforts of Chanu Creations bring smiles to thousands of women weavers and moving towards the fruitfulness tomorrow's generation with a new identity.